Vapor Mitigation – Moisture in Concrete Flooring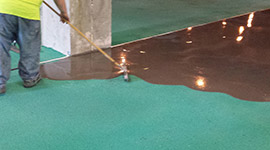 A growing problem in buildings with concrete floors is moisture getting into the concrete itself.  Left unchecked, this could become a major issue which can drastically reduce the lifespan of a concrete-based floor and warp decorative vinyl or tiling.
Concrete is naturally porous, which means it is easy for liquids to pass through, especially in vaporous form.  Moreover, common types of concrete are made from stones such as limestone, which naturally have a small amount of water in them.  Any moisture which is in, or under, the concrete layer can quickly pass upwards through the concrete and start undermining the upper layers.
This has become a bigger concern lately because of the rapid pace at which buildings are being constructed.  With tight timetables, it's common for concrete drying times to be pushed down to their absolute minimum.  The upper surfaces are often applied when the concrete isn't 100% dry, which just traps more moisture within the concrete itself. Within years, sometimes even just months, the upper layers can start to fail – which is not only unacceptable for commercial and industrial flooring, it can be downright dangerous, compromising the integrity of the system.
Vapor Mitigation Systems
Fortunately, with the right preparation and a knowledgeable concrete flooring contractor – water vapor and other forms of moisture don't have to threaten your concrete floors.
Vapor mitigation systems (also called moisture mitigation) are sealants which are applied directly to the concrete surface and trap any remaining moisture within the slab itself.  In other cases, they are additives mixed directly into the concrete which reduce its porosity when dry.  Upper layers can then be applied securely, ensuring moisture won't permeate and deteriorate the flooring solution.
Vapor mitigation systems are becoming commonplace to protect concrete substrate and commercial floors. Modern vapor mitigation is also compatible with green building practices. Modern systems are water-based, rather than relying on volatile organic chemicals (VOCs) and other substances which are harmful to people and the planet.  Some mitigation methods can even qualify for LEED credits.
---
Black Bear will work directly with you or your general contractor to develop a longer-lasting product that saves money and withstands the environmental elements in the Northeast. Whether it's new construction to enhance the look and feel of your property, or a restoration project that ensures the safety of your patrons, trust the professionals at Black Bear Coatings & Concrete to make sure you get the exact concrete foundation and restoration services that you want and need.
With over 25 years of experience, our crews have the skills required to create a production floor that meets each client's unique maintenance and aesthetic needs. Call Black Bear to learn how we provide longer-lasting, more effective solutions for manufacturing and production buildings.
Black Bear is a leading concrete and coatings flooring company that serves New England – Maine, Massachusetts, New Hampshire, Northern Connecticut, Rhode Island, Vermont, as well as New York (north of New York City). Rest assured that we have the staff, equipment, and expertise needed to make your floor project a success. We spend time upfront to assess each client's needs, identify the best flooring solution, engage in the right preparation, and then install the floor using industry best practices. We'd love to help your company.
Contact us today for a free estimate.