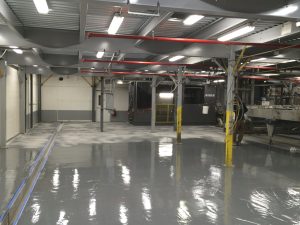 Concrete is an excellent option for flooring in just about any sort of commercial or industrial setting, but one thing it lacks is color. Untreated concrete is dull to look at, and while that's OK in some settings – like warehouses – for more customer or client facing spaces people often want something more visually appealing. Two common choices here are acid stain concrete or polished concrete. Both can be used to create colors, patterns, or new textures. Which flooring method is right for your business? It depends on what your needs are. So, let's take a look at the differences between acid stain concrete vs polished concrete:
Acid Stain Concrete vs Polished Concrete
The most important thing to understand about how to acid stain concrete is that "acid stained" is actually a misnomer. It should be called "acid etched." This isn't mere staining. The process involves using a moderate-strength acid, like hydrochloric acid, to eat away at lime within a concrete slab. That lime makes room for the concrete acid stain colors which will be left behind after the acid finishes. This is important when thinking about stained concrete floors pros and cons.
Acid staining damages the concrete to some extent and will need to receive some form of a resinous coating on top to be usable in most business settings. While it does give it a flashier look than polishing, acid stained concrete will always be subject to damaging easier than polished concrete.
Polished concrete, on the other hand, does very little damage to the concrete. The polishing process, typically with diamonds, is repeated until the concrete reaches a desired level of shine. That shine is effectively permanent. Even if it gets scuffed or dirty from high traffic areas, it is relatively easy to clean and return to its original sheen.
If you're running a business like a restaurant with relatively low amounts of traffic, and a need to impress guests, acid stain concrete floors are fine. However, for areas with heavier foot traffic, concrete polishing is typically the way to go.
A Third Option – Metallic Epoxy
Want to take those concrete floors up a notch in terms of appearance? Metallic epoxy is the answer. With multicolored metallic particles mixed into the formula, metallic epoxy can create unique multi-colored, swirled patterns across the entire floor. The effect is genuinely stunning and can be applied to almost any concrete surface.
Related: The Pros and Cons of Metallic Epoxy Flooring
With over 25 years of combined expertise in engineering and installing concrete floors for commercial and industrial clients, Black Bear has built a reputation as the trusted partner throughout the Northeast.
From healthcare to manufacturing solutions, education to municipal projects, Black Bear is synonymous with high-quality solutions. Contact us below for an on-site consultation and free customized mockup. We can help you decide between acid stain concrete vs polished concrete. Learn more about our polished concrete coatings, epoxy, urethane, and MMA solutions for commercial clients.