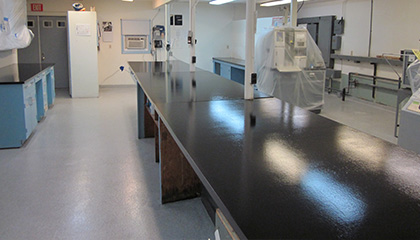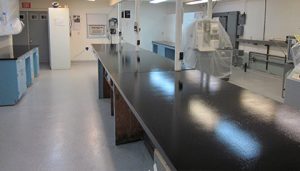 Acids, alkalis, solvents – these are just a few of the chemical compounds found in pharmaceutical manufacturing plants that are corrosive in nature and will destroy industrial flooring. Byproducts of biochemical engineering can deteriorate substrate, compromising the safety and integrity of a production environment.
The pharmaceutical manufacturing industry requires commercial flooring to adhere to strict health and sanitization codes. For this reason, it is the manufacturer's responsibility to work with contractors and engineer appropriate chemical resistant flooring. This flooring should withstand aggressive elements and provide the durability needed to avoid safety violations and ensure the well-being of employees.
Hazardous material and waste from production sites can seep into the floor. If the commercial flooring system isn't up to par, this can pollute clean rooms, increase the risk of biochemical contamination, cause the growth of bacteria and infectious material, and threaten environmental conditions. Chemical resistant flooring is specifically designed to endure runoff from testing areas and production sites, and resist harsh materials and destructive compounds found in these engineering plants.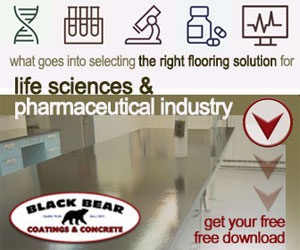 Rigid health codes typically dictate sanitization in these manufacturing spaces. This requires the use of industrial strength solvents that have deteriorating properties and will erode flooring. Chemical resistant solutions are easier to clean and maintain, and holds up under harsh conditions during regular wash-downs. Additional skid-resistance diminishes slips and falling hazards from slick conditions and spillage, reducing the risk of workplace injury.
When engineering the appropriate chemical resistant solution, it is important to assess the jobsite and consult with managers to understand the hazards of the environment and how it will affect the floor. Having a clear understanding of the compounds and their concentrations will ensure that the final product being delivered can withstand all of the materials and environmental impact.
Black Bear Coatings & Concrete offers a number of solutions for pharmaceutical manufacturing companies including epoxy, urethane, polished concrete and methyl methacrylate (MMA) flooring. These systems provide the technology to tolerate organic substances and biological matter found in pharmaceutical production plants. In addition, Black Bear's chemical resistant flooring comes in an array of colors and design options that enhance the aesthetics of a working environment, and complement the look and feel of a building's decor.
The experts will value engineer the right solution for your pharmaceutical and biotech flooring needs. We have years of experience providing chemical resistant solutions for pharmaceutical manufacturing companies. Black Bear is a leading concrete and coatings flooring company that serves New England – Maine, Massachusetts, New Hampshire, Northern Connecticut, Rhode Island, Vermont, as well as New York (north of New York City). Rest assured that we have the staff, equipment, and expertise needed to make your floor project a success.
We spend time upfront to assess each client's needs, identify the best flooring solution, engage in the right preparation, and then install the floor using industry best practices. We'd love to help your company. Contact us today for a free estimate.