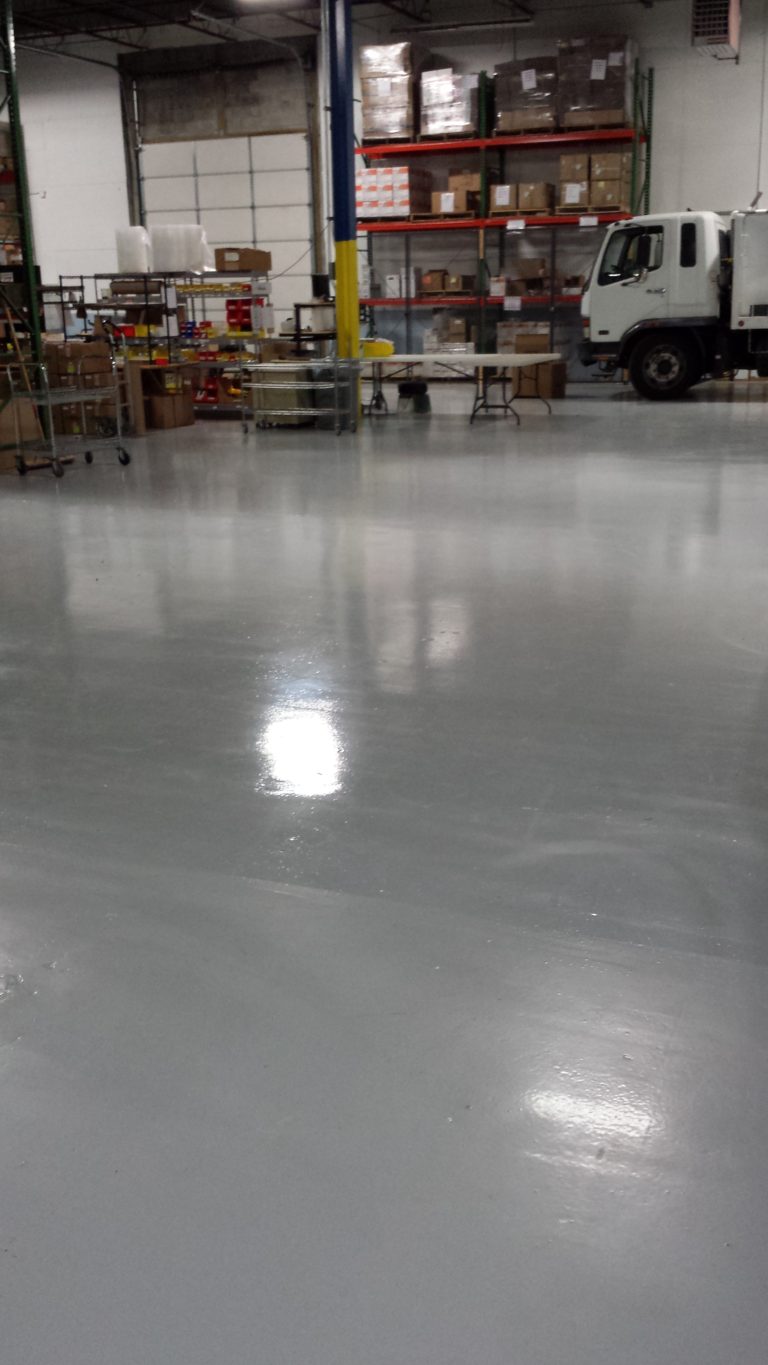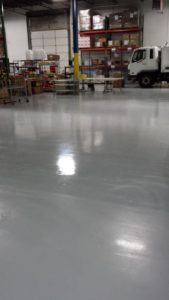 Depending on your industry, many businesses require chemical resistant flooring. From manufacturing plants with caustic substances, or needing to maintain FDA and government compliance regulations, chemical-resistant flooring offers the protection companies need to withstand corrosive elements. Most chemical-resistant commercial and industrial solutions are epoxy-based floors.  In this niche industry, an experienced coatings contractor will assess your space and how it is to be used and create custom epoxy mixes which are resistant to the specific chemicals it will be exposed to. Prior to installation, you should, however, be aware of chemical resistant flooring pros and cons.
As with all flooring materials, chemical resistant epoxy flooring has a variety of benefits that make it a popular choice. There are some drawbacks too, but we feel they are easy to overcome. Make sure you understand the demands of your environment where the flooring will be located before making a final flooring decision. So, let's take a look at some of the most notable chemical resistant flooring pros and cons:
Chemical Resistant Flooring Pros and Cons
Chemical Resistant Flooring Pros
1. Hygienic Surface
Epoxy floor coatings create a single smooth surface across your entire floor. Aside from being resistant to the chemicals in use in your operation, these floors are extremely easy to clean and provide no seams that could host microbial life or other contaminants.
2. Hardness
Epoxy is one of the hardest materials you can install on your floors. So, it can withstand harsh stressors for years, including heavy machinery like forklifts and mobile equipment without being easily damaged.
3. Longevity
Chemical resistant coatings for concrete can be expected to last at least a decade with proper care and maintenance. As a result, some epoxy floors have lasted over twenty years with minimal renovation or repair.
4. Many Color/Style Choices
If you are looking for flooring that can enhance the look and feel of the environment, chemical resistant epoxy floor coating can be customized to offer an aesthetic appeal. From branding colors to eye-catching swirled metallic options, epoxy floors offer a wealth of design opportunities. For more information, read a previous blog post on the pros and cons of metallic epoxy flooring.
Free Whitepaper: How to Choose the Right Flooring
Chemical Resistant Flooring Cons
While there are relatively few significant drawbacks to chemical resistant flooring systems, the time and expense of installation may be a deterrent to some. Epoxy floor coatings require a well-prepared surface by expert installers who can guarantee a blemish-free foundation prior to coating. Consequently, without proper surface prep, the top coating will not set properly and compromise the integrity of the floor. Epoxy requires a two-stage coating process, which also increases time and costs. However, once properly installed, it is extremely strong.
Chemical Resistant Epoxy and Commercial Floor Experts: Black Bear Coatings & Concrete
With over 25 years of combined expertise, the Black Bear Coatings & Concrete team is a trusted partner in this niche industry.  We value-engineer commercial and industrial flooring solutions based on the environmental factors that could impact the longevity of your floor. As a result, this provides a longer-lasting product. In addition, our flawless installation ensures a timely, accurate delivery that minimizes disruption in operations and keeps the focus on your business. Whether you need laboratory chemical resistant flooring, acid resistant flooring, or another type of chemical resistant floor coating, we have the right solution for your environment.
Take a look at some of the epoxy coatings we have engineered for clients. Then, contact us directly for more information about our epoxy, urethane, polished concrete, and MMA flooring solutions. We'll be happy to discuss your options and go over all of the chemical resistant flooring pros and cons with you. Request a free, on-site assessment to learn how Black Bear can provide a compliant, visually appealing, and durable floor for your business.