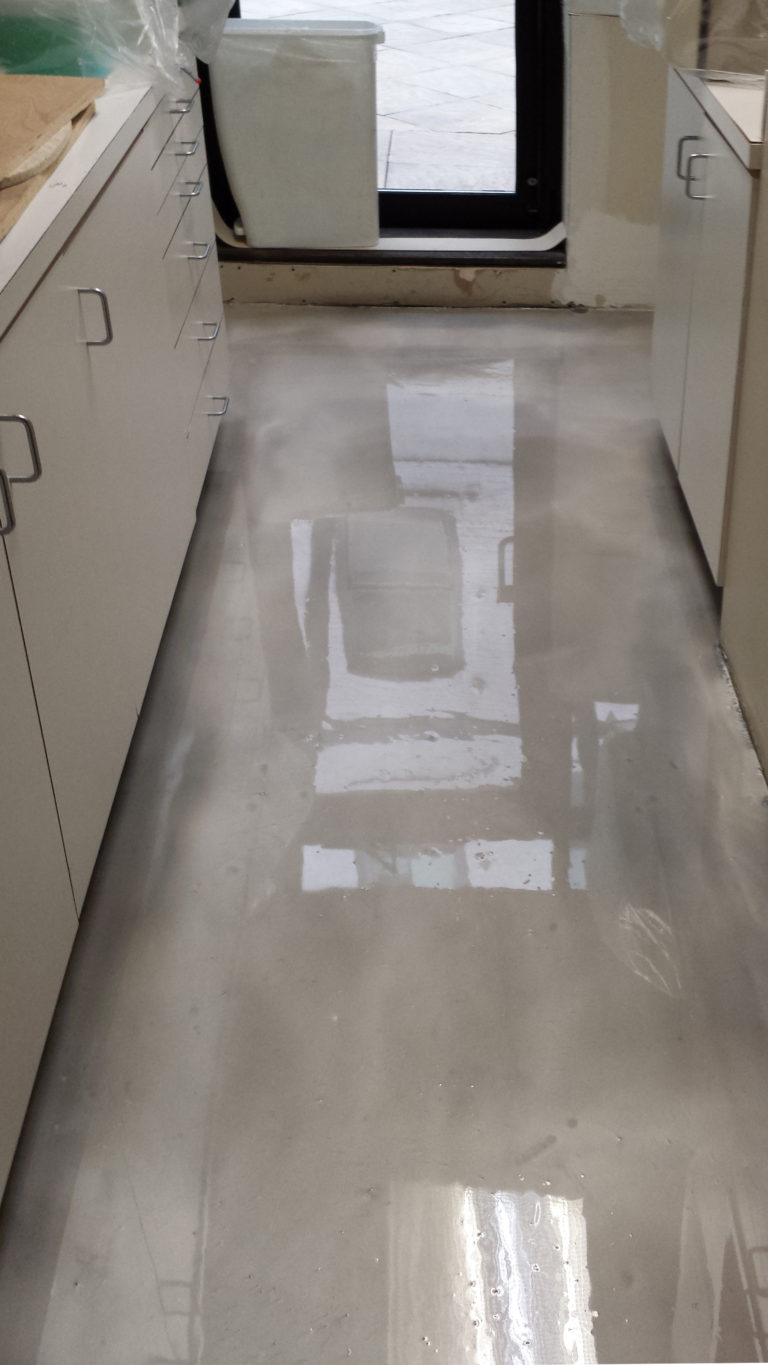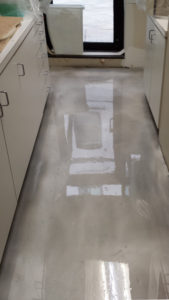 One of the biggest challenges in designing a hospital is the vast array of spaces which need to be created, maintained, and often prevented from contaminating other areas of the facility.  The different areas of a hospital require vastly different solutions based on how each individual space will be used.
Flooring is a key element that needs to be addressed from a hospital or medical center's initial design or renovation project.  Whether patient rooms, common areas, surgical centers, storage\receiving space, the IT center, or mixed use spaces, virtually every individual area may require different flooring solutions.
Black Bear Coatings & Concrete has extensive experience value-engineering floors for the medical and sciences industries.  Our experts are trained and well equipped to handle even the most unique challenges, and adhere to stringent compliance requirements.
Engineering the Right Floors within a Medical Center
Plenty of Hospital Flooring Options
Black Bear's unique methodology is far from a "one size fits all" approach.  We offer a wide range of coatings and sealants which can be engineered per room or section of the hospital.  We specialize in formulating products that can withstand harsh environmental impact and reduce the risk of contamination. Depending on your specific needs, Black Bear teams work with you to propose the right hospital flooring solution based on how the space will be utilized.
Hygienic, Low Maintenance Hospital Flooring
Our resinous coatings are perfect for areas where sanitization is a priority.  They create a single unified surface which is easily maintained, and minimizes the risk of liquid absorption and hazardous materials that can contaminate a space. From bacterial growth to tainted air quality, commercial flooring for hospitals needs to be treated to resist a number of volatile chemicals and biohazardous waste.
Vapor Mitigation
One of the biggest threats to concrete-based floors is the possibility of moisture traveling upwards through the concrete. This can cause cracking, chipping and deformation posing risk in a hospital or clinical environment.  Black Bear assesses each area to determine factors that could compromise the integrity of the commercial floor system. To avoid excess moisture, it may be necessary to install a vapor mitigation system to protect the concrete base and provide a longer-lasting, more durable hospital flooring product.
Full Legal Compliance
Prior to working at a jobsite, Black Bear crews make sure that they fully understand the regulations set forth for a medical space. That could mean taking extra precautions to eliminate the threat of bio-contamination in clean room areas or testing labs, to ensuring that external work and common areas meet OSHA compliance. The solutions that are offered and the installation process that is defined, is meant to uphold all safety and security regulations, and meet state and federal compliance codes.
With a multitude of areas integrated into a medical center's campus, it's impossible to suggest that a single flooring solution will suffice for the entire facility. Some coatings may be preferred and more widely used for their range of durability, though it's more likely than not that multiple flooring products are needed to get the job done.
For more information about commercial flooring for hospital areas including patient rooms, exam and OR spaces, labs, storage, commercial kitchens and administrative offices, Contact Black Bear. Learn how we've partnered with similar facilities to provide high-quality, longer-lasting hospital flooring systems.