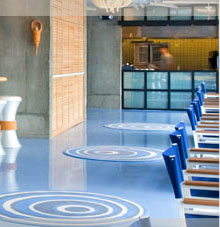 Today's market is saturated with industrial flooring options for restaurants and commercial kitchens. Combining substance and style, new technology offers the food and beverage industry longer-lasting products that are both highly functional and visually appealing.
The food and beverage industry typically needs to replace commercial kitchen flooring every 7-10 years. As you investigate new or replacement floors, we've outlined considerations that should be addressed to help you make the right decision. There are several options for using industrial flooring in commercial kitchens.
Health Codes: One of the first things restaurant owners need to consider is how the flooring will meet current health codes and regulatory compliance. Restaurant flooring needs to support regulations administered by USDA, FDA, OSHA, and similar agencies. Typically, commercial kitchen flooring needs to be durable, skid-resistant, and waterproof to prevent contamination and bacterial growth. Check with your local health department and licensing boards to find out what types of flooring they recommend.
Sanitization: Restaurants and industrial kitchens use harsh chemicals and commercial grade cleaning solvents to sanitize spaces. These liquids contain acidic properties that can deteriorate flooring faster than everyday cleaning products. Wear and tear in a commercial kitchen floor can compromise the health and safety of employees and diners. Industrial flooring should be able to withstand intense and frequent sanitization processes including high-temperature and steam cleanings.
Design: More restaurants owners are opting for flooring that not only offers the durability needed, but that also compliments the overall environment. From coordinating kitchen floors that match dining areas, to unified systems that span kitchen and public eating areas, there are a variety of flooring solutions that offer personalization and customizable décor.
Downtime: Whether you are replacing an entire floor or repairing an existing space, maintenance downtime is something no restaurant owner wants to endure. Before you select a specific industrial flooring system for your commercial kitchen, consider the time it will take to install and the overall process. Some systems can be done in a day, while others require multiple site visits over a period of several days. Determine whether the project will need to be completed overnight or off business hours, and contract with a flooring expert who is skilled at swift restaurant installations that minimize disruption to the business.
Black Bear Coatings & Concrete engineers solutions for the food and beverage industry including epoxy, urethane, MMA and polished concrete floors. We offer longer-lasting, and aesthetically pleasing floors that are durable and easy to maintain. To learn more about Black Bear solutions for restaurants, contact the experts at Black Bear Coatings & Concrete.
The experts will value engineer the right solution for your facility. We would be happy to discuss what solution would best fit your needs. We have years of experience working with industry leaders in a variety of sectors. Black Bear is a leading concrete and coatings flooring company that serves New England – Maine, Massachusetts, New Hampshire, Northern Connecticut, Rhode Island, Vermont, as well as New York (north of New York City). Rest assured that we have the staff, equipment, and expertise needed to make your floor project a success.