Epoxy floor coatings are one of the tried-and-true mainstays of floor solutions among a wide variety of commercial and industrial applications.  From commercial kitchens to pharmaceutical research laboratory facilities, there's an epoxy flooring solution that can accommodate even the most stringent set of requirements.
Why Do So Businesses Rely Heavily on Epoxy Flooring Solutions?
1 – A Seamless, Easy-to-Clean Surface
Because epoxy is applied as a coating on top of another floor material, typically concrete, it creates a perfectly smooth and seamless surface.  This is both hygienic, because it doesn't leave gaps that trap microbes, as well as making it simple to clean.
2 – High Chemical Resistance
While not impervious to all aggressive byproducts, epoxy flooring is extremely durable and can be engineered to resist most types of chemicals commonly used in commercial and industrial facilities.
3 – Affordable and Fast Curing
Epoxy is an affordable option for many facilities.  It's also fast to cure, so it can be applied to your floor without too much additional labor cost, and with minimal downtime involved.
4 – Plenty of Style Options
Unlike many floor coating types, epoxy comes in a wide variety of styles and colors to fit your overall design.  There are even metal-blended epoxies which produce stunning "three-dimensional" color displays for cutting-edge showrooms and other applications that need to impress visitors.  Epoxy floor colors can also be used to differentiate between zones in a warehouse or other large facility.
5 – Improve Workplace Safety
Depending on the type of epoxy coatings used, it can be slip-resistant, impact-resistant, heat/fire resistant, or all of the above.  It may look smooth and slick, but epoxy can be even safer to walk on than many other flooring types.  It's also safer for any workplace vehicles, such as forklifts, because it reduces wear-and-tear on them.
6 – Brightness Options
Do you have issues with visibility in portions of your facilities?  Epoxy coatings can help with that!  High-gloss variations can increase visible lighting in a facility by up to 30% by reflecting it upwards, whereas other materials like concrete tend to absorb light instead.
Black Bear is a leading floor coatings partner in the Northeast. We have value engineered epoxy flooring for clients in a variety of industries. Take a look at a few of the examples below, and contact us to learn how we can develop the right epoxy solution to meet your company's individual needs.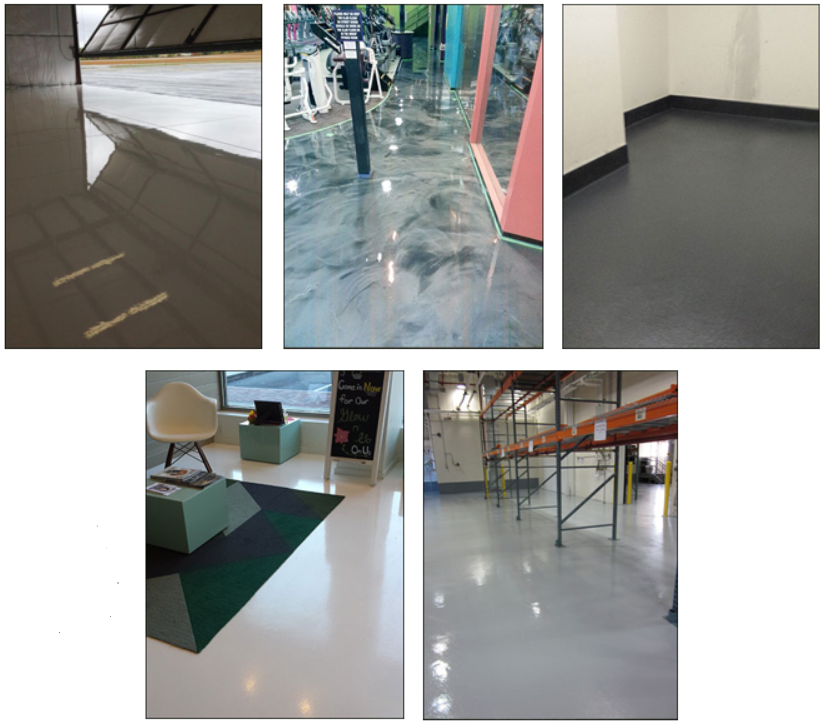 ---
Black Bear will work directly with you or your general contractor to develop a longer-lasting product that saves money and withstands the environmental elements in the Northeast. Whether it's new construction to enhance the look and feel of your property, or a restoration project that ensures the safety of your patrons, trust the professionals at Black Bear Coatings & Concrete to make sure you get the exact concrete foundation and restoration services that you want and need.
With over 25 years of experience, our crews have the skills required to create a production floor that meets each client's unique maintenance and aesthetic needs. Call Black Bear to learn how we provide longer-lasting, more effective solutions for manufacturing and production buildings.
Black Bear is a leading concrete and coatings flooring company that serves New England – Maine, Massachusetts, New Hampshire, Northern Connecticut, Rhode Island, Vermont, as well as New York (north of New York City). Rest assured that we have the staff, equipment, and expertise needed to make your floor project a success. We spend time upfront to assess each client's needs, identify the best flooring solution, engage in the right preparation, and then install the floor using industry best practices. We'd love to help your company.
Contact us today for a free estimate.