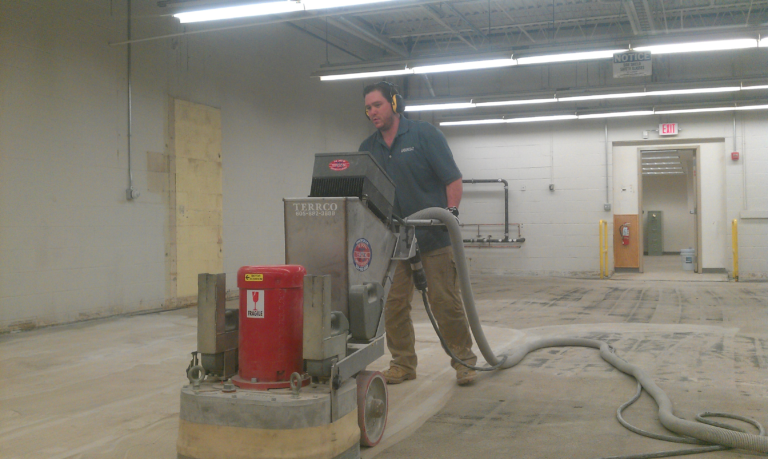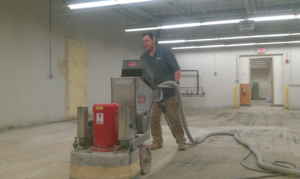 Cracked, stained, and under-performing commercial flooring doesn't necessarily mean a full blown remodel. For those with concrete substrates, your solution may be as simple as a grind and seal repair.
At Black Bear, we help clients determine the best course of action for renovating or replacing industrial flooring systems. Often, clients assume their existing floors are inadequate. They may have even been advised that the flooring is damaged beyond repair. And that's simply not the case. By removing the topcoats and initial layers to expose the concrete below and assess viability, clients may be able to salvage the foundation and essentially rebuild a floor solution that meets their needs.
Grind and Seal Repair
The grind and seal repair process involves stripping away the uppermost coatings to uncover the untouched concrete below. Assuming the concrete is in good condition and the foundation remains intact, you can then engineer smooth topcoats to your specifications. Additives for slip resistance, chemical protection, and other environmental factors can be supplemented into the newly applied top layers of an epoxy or urethane industrial floor.
This repair process is not only cost-effective, but it can be a faster alternative to replacing an entire floor system. With minimal downtime needed for the grinding and topcoat sealing, this type of renovation causes less disruption to operations. It can easily be accommodated in brief phases during off-business hours.
With over 25 years of experience designing functional and attractive flooring for commercial and industrial clients, Black Bear is the trusted partner for epoxy, urethane, MMA, and polished concrete coatings. Take a look at some of our completed projects, and contact us for a free on-site consultation. Learn how Black Bear can value engineer the right solution for your business.
Contact us today for a full consultation on your next industrial flooring project.