A lot of bang for your buck. That's what it takes to provide optimum commercial flooring and structural solutions for community properties. At Black Bear, our experts have supported the needs of towns across the Northeast for over 25 years. With restrictive budgets and a high degree of durability, municipal buildings are governed by rigid standards that dictate the demands of the floors and coating we design. Depending on the type of structure, how each space is used, and the volume of traffic that contribute to wear, Black Bear Coatings and Concrete is successful at engineering the appropriate flooring solution for a variety of interior and exterior municipal spaces.
It's not uncommon for government properties to require multiple solutions for a single structure. For example, buildings may contain commercial kitchens, washrooms, locker rooms, and indoor parking all with unique variables that need to be considered. From moisture mitigation and waterproof top coats, to OSHA approved thermal and slip resistant coatings, public buildings require walk-throughs and discussions with facilities or project managers. It's necessary to fully understand what will impact or compromise the integrity of a product. Only then, can you present the best solution.
Black Bear provides cost-effective, longer lasting solutions for high traffic community structures including schools, post offices, judicial and government buildings, transit authority properties, corrective facilities, community centers, and sports venues. Our government and municipal clients have included Medford Department of Public Works, Block Island Fire Department, Weston Police Department, and Wayland Department of Public Works to name a few.
From functional and decorative epoxy, urethane, and other concrete coatings, to stenciled and branded crests, logos, and insignias for towns and specific departments, Black Bear works with facility managers to determine the right level of customization.
Take a quick look at some of the municipal properties Black Bear has engineered solutions for: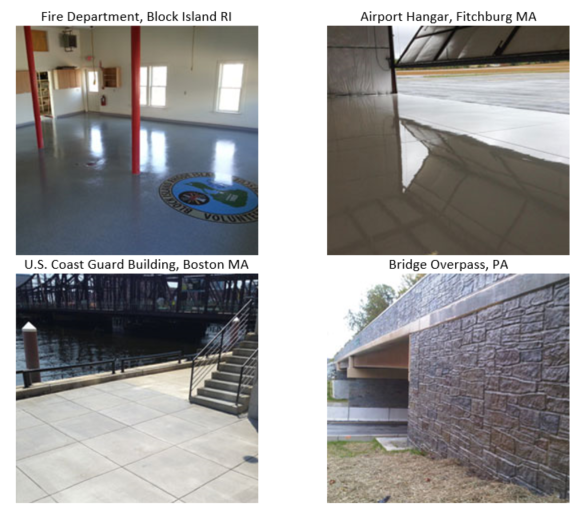 Learn more about Black Bear's unique process, and about the flooring projects we've completed for municipal properties. Talk to our experts to find out how we can engineer durable and affordable solutions for public works and departments, buildings, and structures in your area.
---
With over 25 years of experience, our crews have the skills required to create a production floor that meets each client's unique maintenance and aesthetic needs. Call Black Bear to learn how we provide longer-lasting, more effective solutions for manufacturing and production buildings.
Black Bear is a leading concrete and coatings flooring company that serves New England – Maine, Massachusetts, New Hampshire, Northern Connecticut, Rhode Island, Vermont, as well as New York (north of New York City). Rest assured that we have the staff, equipment, and expertise needed to make your floor project a success. We spend time upfront to assess each client's needs, identify the best flooring solution, engage in the right preparation, and then install the floor using industry best practices. We'd love to help your company.
Contact us today for a free estimate.