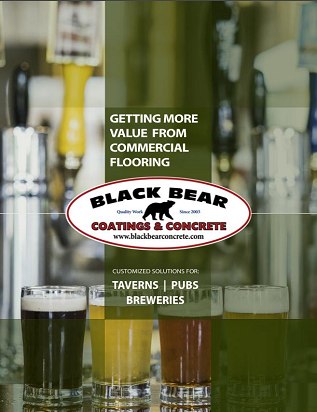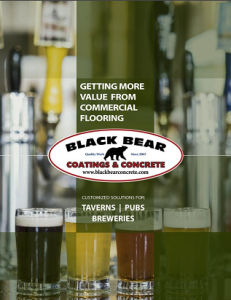 Breweries pose a unique set of challenges for industrial flooring contractors. Part manufacturing plant, part retail store, and part dining experience, there are multiple considerations that need to be addressed before installing the appropriate commercial floor.
Craft brews have gained a cult following and their rise in popularity shows no signs of slowing. In the Northeast alone, microbreweries have increased tenfold, and Black Bear Coatings & Concrete has become the flooring contractor of choice to engineer the right solution for brewery owners. We've designed and installed floor systems for Wachusett Brewing, Madison Brewing Company, Idle Hands Craft Ales, Downeast Cider House, and other craft brands throughout New England.
---
Sample of Brewery Projects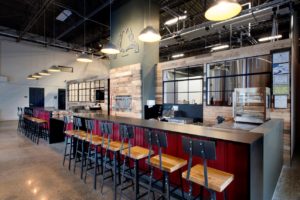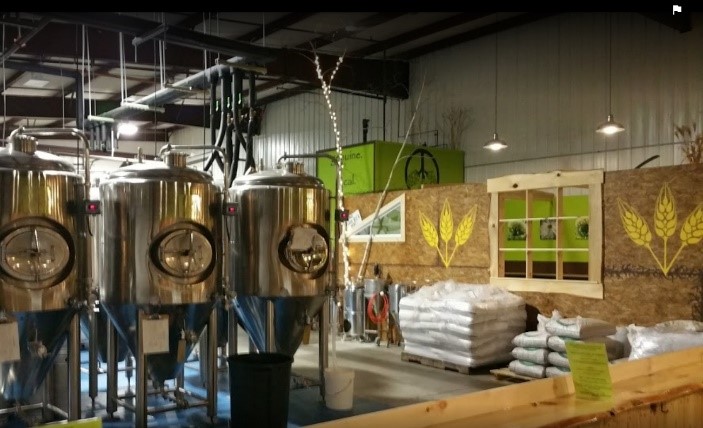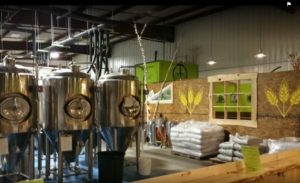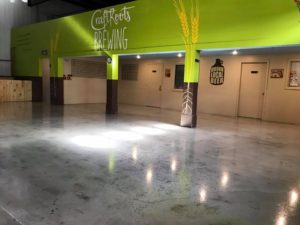 Black Bear understands the specific compliance requirements that the individual rooms within a brewery must adhere to. We work with our clients to propose solutions that will withstand the elements in each area to create longer-lasting, more cost-effective products. For example:
Brewing rooms: Not unlike commercial kitchens, these areas abide by strict health codes, require No VOC, chemical resistant flooring that can hold up against runoff and byproducts of brewing. These wet spaces require appropriate drainage and pitched floors that should be slip resistant and easily cleaned without fraying from regular sanitization and cleansing processes.
Bottling/Packaging/Warehouse: With heavy machinery and vehicles in motion, production areas need to be shock resistant and designed to endure constant tire tread without wear and tear. Any nick or fracture in the floor can risk OSHA violations and result in costly shutdowns.
Restaurant & Retail: Breweries that are open for public purchasing and consumption want floors that complement the look and feel to support their brand. From colors to logo insignias, today's flooring technology is not only sturdy and safe, but also aesthetically pleasing. Black Bear isn't afraid to use bold colors and different techniques to get a desired look and feel.
Engineered Solutions & Installation
There are several products Black Bear recommends depending upon the requirements of a space. Epoxy, Urethane, and Polished Concrete topcoats can be engineered to provide the protection, strength, and look breweries want from a commercial floor. And, because downtime associated with installation is always cause for concern, we work around your scheduled shutdown periods, off business hours, and phase out construction so you can conduct business as usual.
From smooth, seamless floors that prevent contamination and health code violations, to custom flake designs and innovative color schemes, Black Bear is your partner for highly individualized solutions.
Learn how Black Bear, the Northeast's leading industry flooring expert, helps breweries stay compliant, avoid penalties, and minimizes the need for renovation, repair, and replacement. Request a free on-site assessment to find out how your brewing facility can benefit from value engineered flooring.
---
Black Bear Coatings & Concrete engineers solutions for the food and beverage industry including epoxy, urethane, MMA and polished concrete floors. We offer longer-lasting, and aesthetically pleasing floors that are durable and easy to maintain. To learn more about Black Bear solutions for breweries and micro-brew restaurants, contact the experts at Black Bear Coatings & Concrete.
The industrial flooring experts will value engineer the right solution for your facility. We would be happy to discuss what solution would best fit your needs. We have years of experience working with industry leaders in a variety of sectors. Black Bear is a leading concrete and coatings industrial flooring company that serves New England – Maine, Massachusetts, New Hampshire, Northern Connecticut, Rhode Island, Vermont, as well as New York (north of New York City). Rest assured that we have the staff, equipment, and expertise needed to make your floor project a success.
Contact us today for a free estimate.