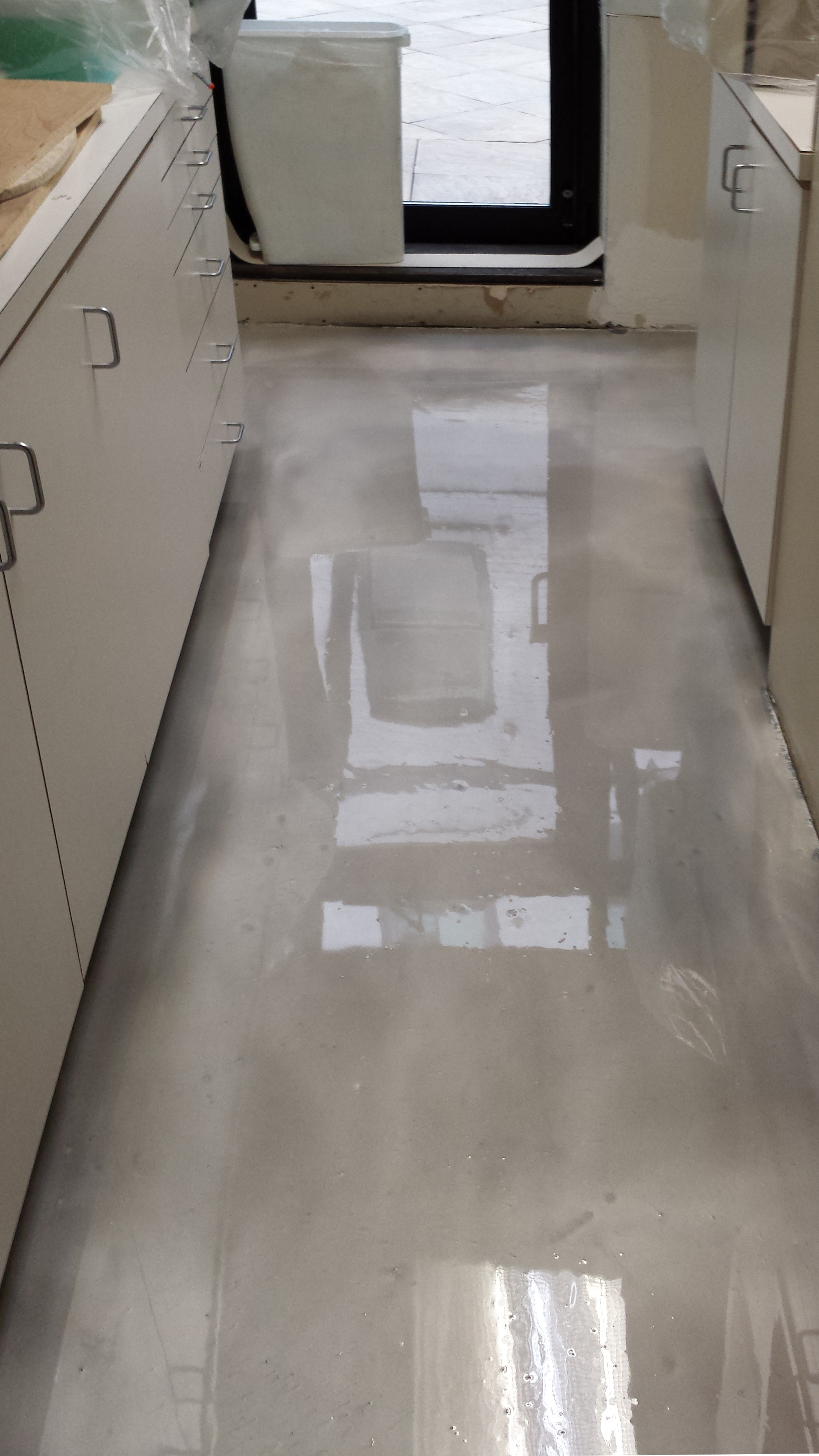 What do hazmat teams and engineered flooring systems have in common? More than you would initially believe. While most people wouldn't think to associate a floor with the containment of infectious diseases and hazardous contaminants, in several instances it's quite prevalent.
An important consideration that hospitals, clinics, hospice, and assisted living facilities contemplate is an industrial flooring that will protect against pathogens, bacteria and lingering microbes that can fester in small spaces and pose health risks. The safety and sanitization of a property takes center stage in the planning of a healthcare facility. The selected flooring plays a major role in the maintenance and management of VOCs (Volatile Organic Compounds) – industry byproducts that can quickly infect and pollute a space, causing health risks and endangering all occupants.
Water resistant, seamless industrial flooring systems are ideal for infection control in healthcare facilities. A non-porous surface that won't absorb moisture and bacteria will reduce the occurrences of mold and microorganisms. In an industry where viruses and germs could prove life threatening, choosing a material that helps eliminate harmful contaminants will protect employees and residents.
A durable surface is also needed to withstand the harsh chemicals and sanitization process that are set forth by regulatory agencies. Corrosive materials have a tendency to wear down quicker and compromise the integrity of a flooring system. A longer-lasting, resilient surface will be more effective and provide better protection than one that needs to be replaced more often.
Black Bear Coatings & Concrete preferred solutions for healthcare facilities include epoxy, urethane and MMA flooring systems. We value engineer chemical resistant floors that provide the strength and stability to endure intense cleaning, are easier to maintain, and offers a unified surface that protects against volatile organic compounds.
The safety and design of a healthcare facility starts from the ground up. Your industrial flooring solution should safeguard against hazardous materials and minimize the risk of infection by offering a barrier from the elements.
For more information on infection control and flooring, talk to Black Bear Coatings & Concrete. The experts will value engineer the right solutions that will protect your healthcare property. We would be happy to discuss what solution would best fit your needs. We have years of experience working with industry leaders in a variety of sectors. Black Bear is a leading concrete and coatings flooring company that serves New England – Maine, Massachusetts, New Hampshire, Northern Connecticut, Rhode Island, Vermont, as well as New York (north of New York City). Rest assured that we have the staff, equipment, and expertise needed to make your floor project a success.
We spend time upfront to assess each client's needs, identify the best flooring solution, engage in the right preparation, and then install the floor using industry best practices. We'd love to help your company. Contact us today for a free estimate.