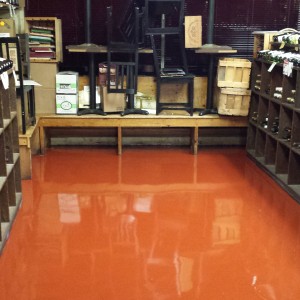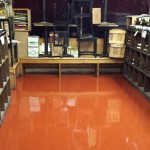 Certain industries rely heavily on commercial flooring solutions to support the well-being of employees and customers, as well as uphold safety standards imposed by regulatory agencies. Food and beverage businesses fall into this category, and require flooring to adhere to rigorous guidelines.
Typically, commercial flooring for food service businesses such as restaurants, grocers, and manufacturing plants, must be engineered to meet a specific set of requirements. Stress factors inducing machinery tread, foot traffic, moisture and food byproducts are considerations when opting for new or replacement flooring. At Black Bear, we value-engineer flooring solutions that are tailored for each environment and meet the needs of the individual client. Popular commercial floor systems for food and beverage businesses include:
URETHANE FLOORS
Ideal for optimum protection in manufacturing and wet spaces, urethane flooring can withstand the stringent conditions found in food and beverage industries. Urethane is highly durable and thermal shock resistant. From commercial oven use to freezers, urethane flooring won't crack in sub-zero temperatures and high heat. A non-porous finish can offer the bacteria and chemical resistance that will maintain both the integrity and sustainability of the floor, to provide a safe and longer-lasting product.
Benefits: Hygienic | Durable | Chemical Resistant | Thermal Shock Resistant| Attractive Finishes | Low Maintenance | Slip Resistant | Water-proof | Environmentally Friendly
EPOXY FLOORS
Combining high durability with low maintenance, epoxy floors are regarded as a popular option for high-traffic areas in the industry. However, epoxy floors are much better suited for shipping and receiving areas, packaging, maintenance areas, office spaces, lobbies, break-rooms, and hallways. This flooring system offers little to no thermal shock resistance and only limited protection against food byproducts and acids. For this reason, it is seldom selected for manufacturing and processing spaces. Additional formula may be necessary to safeguard the floors against corrosive elements in food and beverage handling areas.
Benefits: Seamless | Hygienic | Durable | Attractive Finishes | Water-proof | Slip Resistant
METHYL METHACRYLATE (MMA)
When a fast curing solution is needed, MMA flooring can provide a speedy installation of seamless, hygienic floors. Available is a variety of colors and finishes, MMA floors are durable and low maintenance. Methyl Methacrylate is an effective replacement system that minimizes downtime, and can help to fast-track new construction.
Benefits: Seamless | Hygienic | Quick Installation | Durable | Attractive Finishes | Low Maintenance | Slip Resistant | Chemical Resistant
Black Bear Coatings & Concrete are experts at installing longer-lasting commercial flooring solutions for food and beverage companies. Our skilled professionals are well-versed in regulatory needs, and the use of HEPA-filtered machinery to ensure a safe and effective product. With over 25 years of collective experience, the team at Black Bear can assess your space and create a customized solution for your particular business.
Black Bear is a leading concrete and coatings flooring company that serves New England – Maine, Massachusetts, New Hampshire, Northern Connecticut, Rhode Island, Vermont, as well as New York (north of New York City). Rest assured that we have the staff, equipment, and expertise needed to make your floor project a success.