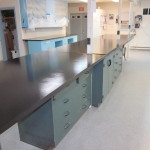 Pharmaceutical manufacturing plants and testing labs are held to uncompromising standards. When architecting a new facility, or re-envisioning a space to accommodate such production, there is no margin for error in regards to the industrial flooring chosen for an entire building. Pharmaceutical flooring systems play a significant role in the safety and integrity of the performance of a pharmaceutical manufacturing space. A number of considerations should be factored in when engineering an flooring solution for this industry.
Compliance
From the USDA to EPA, the FDA and cGMP, no matter the acronym these standards and regulatory agencies are commonplace in pharmaceutical manufacturing. Frequent inspections can, and do, reveal infractions that can lead to costly fines and even halt production. Companies have a legal responsibility to comply with these practices, and it's important when selecting a floor, that you identify a system that will help to safeguard against violations and uphold the governing recommendations for your facility.
Biosafety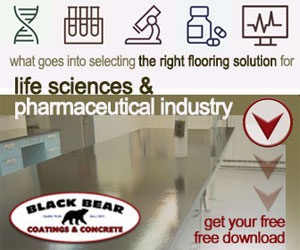 Pharmaceutical manufacturing floors need to be free from bacterial contamination and able to withstand the threat of biohazardous materials penetrating the surface. No VOC industrial flooring can help to reduce infectious pathogens from becoming an imminent danger to a work environment. A floor's ability to resist chemical and organic substances will minimize the need for premature replacement and repair. A system should be resilient and not break down easily. Any cracking or chipping of a pharmaceutical floor can result in the potential for hosting biological contaminants. Look for a waterproof system that can endure chemical runoff and sustain its integrity when faced with liquids with deteriorating properties.
Durability
Overall, a manufacturing facility's production floor is tested daily by constant foot tread, and motion from equipment and machinery. However, in the pharmaceutical industry, and particularly in labs, a floor's durability is also tried under harsh chemical runoff and regular high-temperature sanitization. The chosen industrial flooring system should be thermal shock resistant to withstand temperature fluctuation, as well as strong enough to resist erosion from daily cleanings and any decontamination process. Static resistant flooring will also reduce workplace hazards and the likelihood of code violations.
As companies weigh flooring options for pharmaceutical facilities, other factors including installation time, slip-resistance, and seamless systems may be part of the consideration process. At Black Bear Coatings & Concrete, we take the time to understand your specific industry, learn about the environmental impact of your production space, and evaluate all of the regulatory requirements before presenting you with the right solution.
Black Bear has value engineered industrial flooring to meet the specific flooring needs of pharmaceutical manufacturing plants throughout New England. Talk to us to learn how we can provide a more cost-effective solution that meets (and exceeds) safety standards and gives you a longer-lasting, more dependable system.
Contact us today for a free estimate.