If you would have asked a designer 10 years ago if they ever thought polished concrete would emerge as a preferred choice for commercial floors, they probably would have shaken their head with a definitive "no." However, that's just what happened.
Polished concrete has long been associated as one of the most indestructible, lasting solutions. It solidified its place in industrial, utilitarian construction projects. But, it has also come a long way from the stigma of just being a cold, practical flooring product.
Quite the contrary, polished concrete is now a focal point of commercial and industrial floors, and often requested to enhance the design of an overall environment. So, how did this transformation happen?
Aside from being highly durable and virtually maintenance free, polished concrete is an economical choice for many cost-conscious companies. Now, with the introduction of new formulas engineered to provide an appealing look and feel, companies can enhance almost every space. Polished concrete has found its way to the forefront of interior design. So much so, that it has also moved up in the world. No longer just thought of for substrate and commercial floors, concrete coatings are now being created to design raised surfaces such as countertops and workspaces.
Decorative effects such as scoring and etching are being used to personalize concrete with unique styles. Adding high gloss or acrylic sealers, adjusting color levels, and using a variety of application techniques, gives you a polished, faux finished appearance with such looks mimicking limestone décor and marbleized flooring. What's more, because concrete can be engineered with a number of top coats for protection, though porous in nature, concrete can be waterproofed as well as formulated to offer extra slip-resistance – making this ideal for interior commercial floor projects.
At Black Bear, we have not only witnessed the rise of polished concrete surfaces as a preferred design element and viable commercial flooring solution, but our teams have also experimented with emerging techniques. We remain on the cutting edge of concrete technology. Black Bear doesn't shy away from applications that have never been tried. Our highly skilled teams often set precedence by trying new methods of installation and engineering alternative formulas to provide the best concrete solutions to our commercial clients. From performance to design, Black Bear Coatings & Concrete ensures that each client's individual needs are recognized and reflected in the product we provide for optimal results.
Take a look at a sample of polished concrete projects below that we have completed for clients in throughout the Northeast. And, contact us to find out how Black Bear can value engineer a better solution for your commercial or industrial business.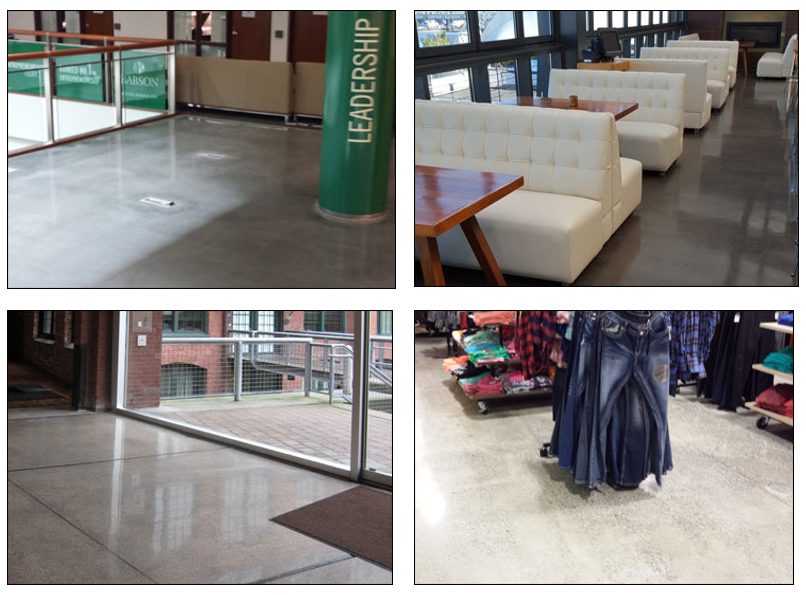 ---
Black Bear will work directly with you or your general contractor to develop a longer-lasting product that saves money and withstands the environmental elements in the Northeast. Whether it's new construction to enhance the look and feel of your property, or a restoration project that ensures the safety of your patrons, trust the professionals at Black Bear Coatings & Concrete to make sure you get the exact concrete foundation and restoration services that you want and need.
With over 25 years of experience, our crews have the skills required to create a production floor that meets each client's unique maintenance and aesthetic needs. Call Black Bear to learn how we provide longer-lasting, more effective solutions for manufacturing and production buildings.
Black Bear is a leading concrete and coatings flooring company that serves New England – Maine, Massachusetts, New Hampshire, Northern Connecticut, Rhode Island, Vermont, as well as New York (north of New York City). Rest assured that we have the staff, equipment, and expertise needed to make your floor project a success. We spend time upfront to assess each client's needs, identify the best flooring solution, engage in the right preparation, and then install the floor using industry best practices. We'd love to help your company.
Contact us today for a free estimate.