Today's industries are focusing more on their environment to increase productivity and provide a more influential workplace. From 5s to LEAN manufacturing standards, the push towards a more streamlined and scaled down approach to factory floors has made an impact on production facilities. Companies have adopted these methodologies to help:
Avoid workplace hazards
Clean up manufacturing spaces
Improve assembly line and equipment bays
Accelerate workflows through the standardization of symbols, colors, and labeled areas that better mobilize production floors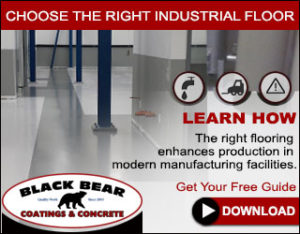 When implementing these strategies, it's not uncommon to purchase adhesives and other equipment that foster this type of environment. These temporary solutions are ideal to test the waters, but usually need to be repaired or replaced to maintain their instructive purpose. When you want to fully engage in LEAN or 5s manufacturing, there are more permanent and aesthetically pleasing solutions that can be "built in" to your production areas.
Implementing 5s in Manufacturing: A Better Way
Many companies have looked towards the recoating or resurfacing of industrial floors to help map out OSHA related guidelines and standards that support these initiatives. Commercial flooring systems have the capability to be customized, which means you can design a space to be more functional and safe for workers. For example, you can tailor manufacturing flooring to indicate walkways and pedestrian paths, or use specific colors to point out dangerous, flammable areas. This minimizes the need for temporary solutions and enhances the look and feel of a safe, productive factory floor.
Black Bear Coatings and Concrete has engineered solutions for the manufacturing industry for over a decade. We have provided industrial flooring systems for numerous companies throughout the Northeast. Let us work with your company to create a better, longer lasting product that meets the needs of your specific environment. Take a look at the color chart below for ideas on how to customize a factory floor to increase productivity and reduce the risk of workplace hazards.
COLOR CHART for 5s FLOOR MARKING STANDARDS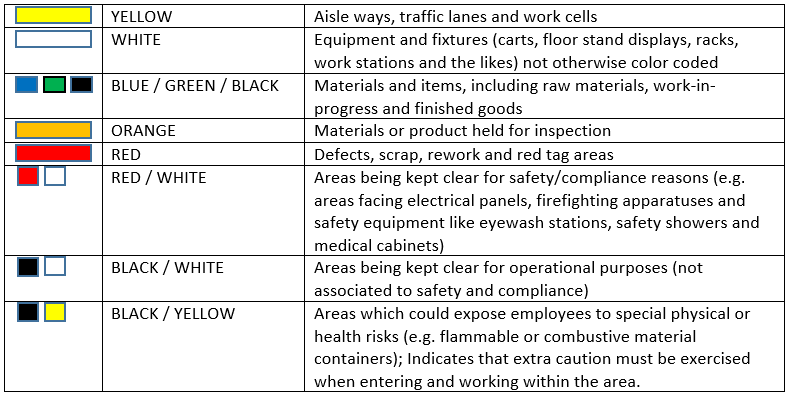 ---
With over 25 years of experience, our crews have the skills required to create a production floor that meets each client's unique maintenance and aesthetic needs. Call Black Bear to learn how we provide longer-lasting, more effective solutions for manufacturing and production buildings.
Black Bear is a leading concrete and coatings flooring company that serves New England – Maine, Massachusetts, New Hampshire, Northern Connecticut, Rhode Island, Vermont, as well as New York (north of New York City). Rest assured that we have the staff, equipment, and expertise needed to make your floor project a success. We spend time upfront to assess each client's needs, identify the best flooring solution, engage in the right preparation, and then install the floor using industry best practices. We'd love to help your company.
Contact us today for a free estimate.