The standards and practices that govern the manufacturing industry are regulated by several agencies. The Current Good Manufacturing Practices (CGMP) is an example of mandated standards facilities must abide by. These practices are focused on promoting clean and sterile work environments.
Manufacturing plants are subject to multiple investigations throughout the year. From OSHA to the FDA, these frequent inspections ensure that the guidelines are being met. Those in violation, are subject to steep fines or worse, threatened with the shutdown of production.
When it comes to the safety and sterility of an environment, an industrial flooring solution can have severe implications that are regularly evaluated during inspections. In the pharmaceutical manufacturing industry for example, an epoxy coating must be thick enough to protect concrete against chemicals and contaminants that could penetrate the surface. If a system has been compromised, the noticeable effects could result in penalties.
Each part of a pharmaceutical facility will have its own set of requirements above and beyond set standards. In order to ensure the appropriate flooring is installed, it's necessary to evaluate the space to determine what factors could compromise the integrity of the system, and then engineer accordingly.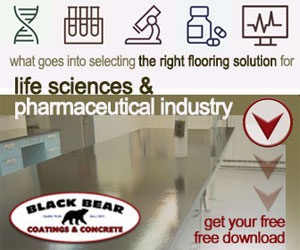 3 Areas with a Unique Set Flooring Requirements
Clean Rooms & Testing Labs – A chemically resistant and completely hygienic flooring system is required for this space. Industrial flooring should be thermal resistant to withstand extreme temperature changes without cracking. It should be seamless to avoid biological contamination, and durable to avoid the occurrence of chipping and erosion where bacteria can form. A laboratory floor system needs to be low maintenance and easily cleaned.
Production and Assembly – For the safety of employees, this part of a facility should be chemical and impact resistant. An anti-static or electrostatic resistant surface will avoid disruption to machinery and maintain the safe environment. Slip resistance should also be added to reduce workplace hazards.
Storage Areas – Depending on the type of storage (i.e. cold storage) and what materials are being housed (i.e. chemical solvents), floors should be highly resistant to cracking and able to adjust to extreme temperature changes. A storage floor needs to be easily cleaned and durable enough to withstand various weights and constant motion of production traffic moving throughout the space.
At Black Bear Coatings & Concrete, we've partnered with numerous pharmaceutical plants across the Northeast to engineer the appropriate flooring for every inch of a facility. Our process includes getting to understand how a space is going to be used in order to provide a longer-lasting solution. From trench drains to specially formulated top coats, we provide products that are durable, moisture and chemical resistant, and easily maintained. Contact us to learn more about industrial flooring solutions for pharmaceutical manufacturing facilities and production areas.
---
With over 25 years of experience, our crews have the skills required to create a production floor that meets each client's unique maintenance and aesthetic needs. Call Black Bear to learn how we provide longer-lasting, more effective solutions for manufacturing and production buildings.
Black Bear is a leading concrete and coatings flooring company that serves New England – Maine, Massachusetts, New Hampshire, Northern Connecticut, Rhode Island, Vermont, as well as New York (north of New York City). Rest assured that we have the staff, equipment, and expertise needed to make your floor project a success. We spend time upfront to assess each client's needs, identify the best flooring solution, engage in the right preparation, and then install the floor using industry best practices. We'd love to help your company.
Contact us today for a free estimate.