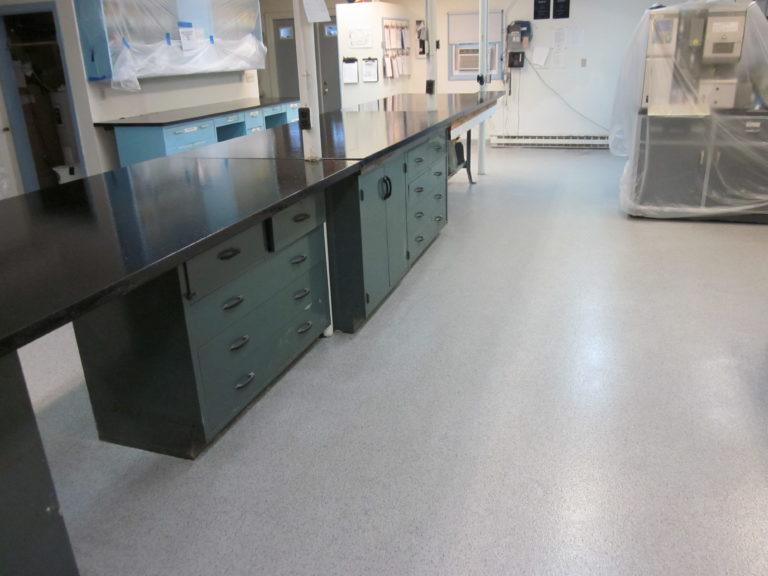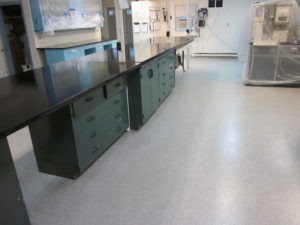 No matter the application, a flooring solution needs to be durable – and those on a college campus are no exception. In fact, collegiate flooring takes quite the beating.  With countless students, faculty, and guests walking on them every day, you need a truly robust floor that can stand up to some of the most aggressive stressors.  This is particularly true for science labs and classrooms of specific study taking place with hostile elements. The harmful agents are amplified with the addition of chemicals and heavy equipment often found in these buildings. Fortunately, there are science lab flooring solutions which can stand up to even the level of abuse which can be expected of a college science lab – such as concrete coated with polyurethane.
Polyurethane-Coated Concrete Makes For Highly Resilient School Science Lab Floors:
Concrete is, of course, one of the most basic materials for making a floor.  However, concrete by itself is not suitable for a lab environment.  It's too porous and too prone to erosion over time.
However, with a coating of polyurethane, it becomes a science lab flooring solution which can last for years or even decades.
Polyurethane coating is perfect for science lab flooring for many reasons:
Chemical-resistance.  Polyurethane is naturally resistant to a wide variety of chemical attacks, making it an excellent choice for situations where chemical spills are a possibility.  If your lab will be using exotic or particularly caustic materials, the coating can even be reformulated to fit those needs.
Long-lasting.  Polyurethane doesn't wear down, and it's extremely difficult to damage even with deliberate effort.  It can last for a very long time, even under strenuous use.  And even if it does develop a crack or other problem, it can be fixed easily with a new layer of coating.
Easily-cleaned.  When you use coated concrete, you end up with a completely seamless surface that stretches the length of the room.  This makes it simple to clean, as well as reducing issues with hygiene.  There's nowhere for harmful contaminants like bacteria, molds, or fungus to get a foothold.
Impact-resistant.  Polyurethane, being a form of rubber, is a bit resilient.  This gives it extra resistance to damage from dropped items, without reducing its effectiveness as a flooring solution.
In short, concrete topped by polyurethane offers everything a college or university science lab floor needs.  It's affordable, it's easy to maintain, and it's extremely hard to damage.
Related Resource: Customized Flooring Solutions for University Dining Halls & Cafeterias
Black Bear: Your Science Lab Flooring Experts in the Northeast
Learn how your school can benefit from durable, high-performance commercial flooring that outlasts other science lab flooring products. Contact Black Bear for a free on-site consultation and customized mockups, and find out how our epoxy, urethane, and polished concrete coatings can help you save time and money while maintaining a high degree of safety on campus.