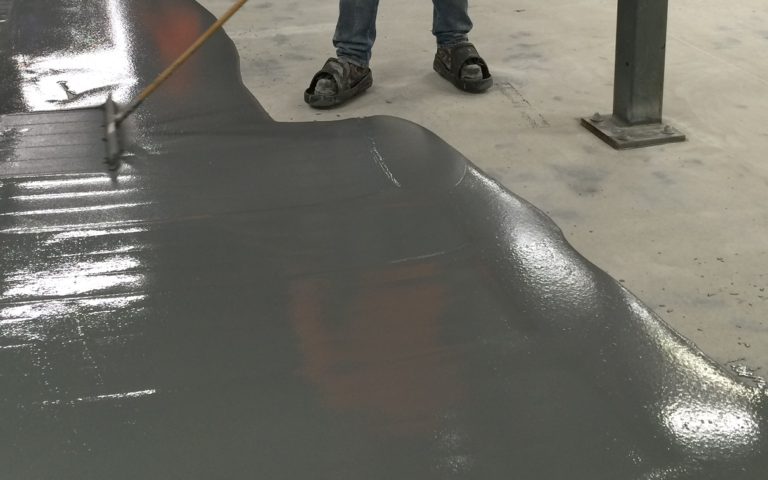 Moisture or liquid vapor trapped within a concrete floor can result in serious problems for the integrity of a structure.  Left unchecked, it can lead to significant flooring damage, create hazardous conditions for workers, and possibly require significant repair soon after installation.
Wetness can compromise the durability and shorten the life-span of a commercial floor solution. Vapor mitigation systems (also called moisture mitigation systems) are specifically designed to keep moisture from entering concrete, or to permanently trap moisture within concrete to contain moisture movement from permeating the surface.
There are several options available in vapor mitigation, depending on the type of concrete being used as well as its intended application.
Types of Mitigation Systems
1 – Curation Time: While not a product, build time can help reduce moisture related issues. In many cases, problems within the concrete itself are caused by contractors being rushed to build atop a slab before it has fully dried and harden.  Many moisture issues can be avoided simply by allowing the slab enough time to properly dry and curate before continuing work.
2 – Preformed Membranes: In some cases, the easiest solution to moisture problems is to apply a membrane to the top or bottom of the concrete. Made of a water-impermeable substance such as silicone, these membranes will protect wetness from penetrating throughout the concrete, particularly from the threat of groundwater beneath the surface.
3 – Resinous or Epoxy Coatings: One of the most common solutions for vapor mitigation within concrete is to treat the entire slab with a resinous or epoxy layer. This layer, which adheres directly to the concrete and forms a water-tight barrier, will minimize the transfer of moisture to and from the slab, and protect the concrete for years to come.
4 – Cementitious Coatings: In some situations, the top layer of concrete needs to be concrete – rather than resin or epoxy. To protect against moisture, contractors can first lay down a membrane or resinous layer, then put a thin layer of cement on top of the water-proof layer.  Because this cement is spread thinly, it can dry quicker than a full slab.
Experts in Moisture Mitigation
Black Bear Coatings & Concrete has over 25 years of combined experience installing concrete floors, and treating them to protect against wetness and provide maximum longevity.  We value-engineer each solution individually, to meet the unique needs of our clients. Our skilled installers work with you to implement the right product – from cementitious and resinous coatings, to mitigation services and surface prep.
Our team takes the time to fully understand how a space is going to be used, and what factors can influence an industrial flooring system. We engineer solutions to withstand these elements and ensure a longer-lasting product. Contact Black Bear today for a full consultation on your next flooring project.
---
With over 25 years of experience, our crews have the skills required to create a floor that meets each client's unique maintenance and aesthetic needs. Call Black Bear to learn how we provide longer-lasting, more effective solutions.
Black Bear is a leading concrete and coatings flooring company that serves New England – Maine, Massachusetts, New Hampshire, Northern Connecticut, Rhode Island, Vermont, as well as New York (north of New York City). Rest assured that we have the staff, equipment, and expertise needed to make your floor project a success. We spend time upfront to assess each client's needs, identify the best flooring solution, engage in the right preparation, and then install the floor using industry best practices. We'd love to help your company.
Contact us today for a free estimate.