Passed in 2011, the Food Safety Modernization Act (FSMA)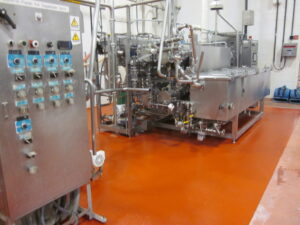 gave the federal Food and Drug Administration (FDA) sweeping new powers to oversee and regulate the production of food within the United States.  This was in direct response to a rising number of cases involving tainted food, traced back to its processing plants of origin.
In short, the FSMA holds food producers directly responsible for maintaining clean facilities and deploying best scientific practices to reduce the chances of foodborne illnesses.  Along with new regulations on production, the FDA also received enhanced powers to directly inspect facilities and test the products being created. 
If you are considering construction or renovation of a food processing facility, it is of paramount importance that every aspect of its design be geared towards reducing instances of contamination.  For many organizations, this begins at the ground level – quite literally – with the deployment of floors with resinous coatings.
Stay Within FSMA Compliance with Resinous Flooring
Resinous flooring systems, such as epoxy or polyurethane laid over concrete, offer numerous direct benefits to safety-focused food production facilities.
Resinous floors create a single unbroken surface across the entire floor, leaving no gaps at the walls or around support structures such as columns.  This greatly reduces the chances of contamination by denying contaminants – such as mold or mildew – any small cracks in which they might thrive.  Considering that a crack in the floor of a food production facility could, by itself, lead to a red-tag shutdown under the FSMA, this is a vital consideration!
This perfectly flat and smooth surface is also exceptionally easy to clean.  Resinous coatings are highly resistant to most chemicals, including all commonly used cleaning and disinfecting agents.  Sanitizing your resinous floor is often as easy as simply mopping it down with the cleaning agent of your choice.
Additionally, the anti-microbial properties of resinous flooring can be enhanced through the addition of antibiotic agents to the resin mix itself.  This helps prevent any microbial growth even on the surface and is an excellent way for food production facilities to further reduce chances of unwanted contamination.
In terms of price vs performance, there is no better option in food production flooring than resinous coatings.  That they are also strong, long-lasting, and highly resistant to damage only adds to the long-term value.
Commercial Flooring for the Food and Beverage Industry
Black Bear Coatings & Concrete has partnered with restaurants and food and beverage manufacturing companies to provide longer lasting industrial floors. Take a look at some of our clients and the work completed for Vitasoy, Shaws, Navara, Millenium Café, Catania Spagna, and others in the industry. Contact us for a free on-site consultation and to learn how we can value-engineer compliant solutions for your facility.