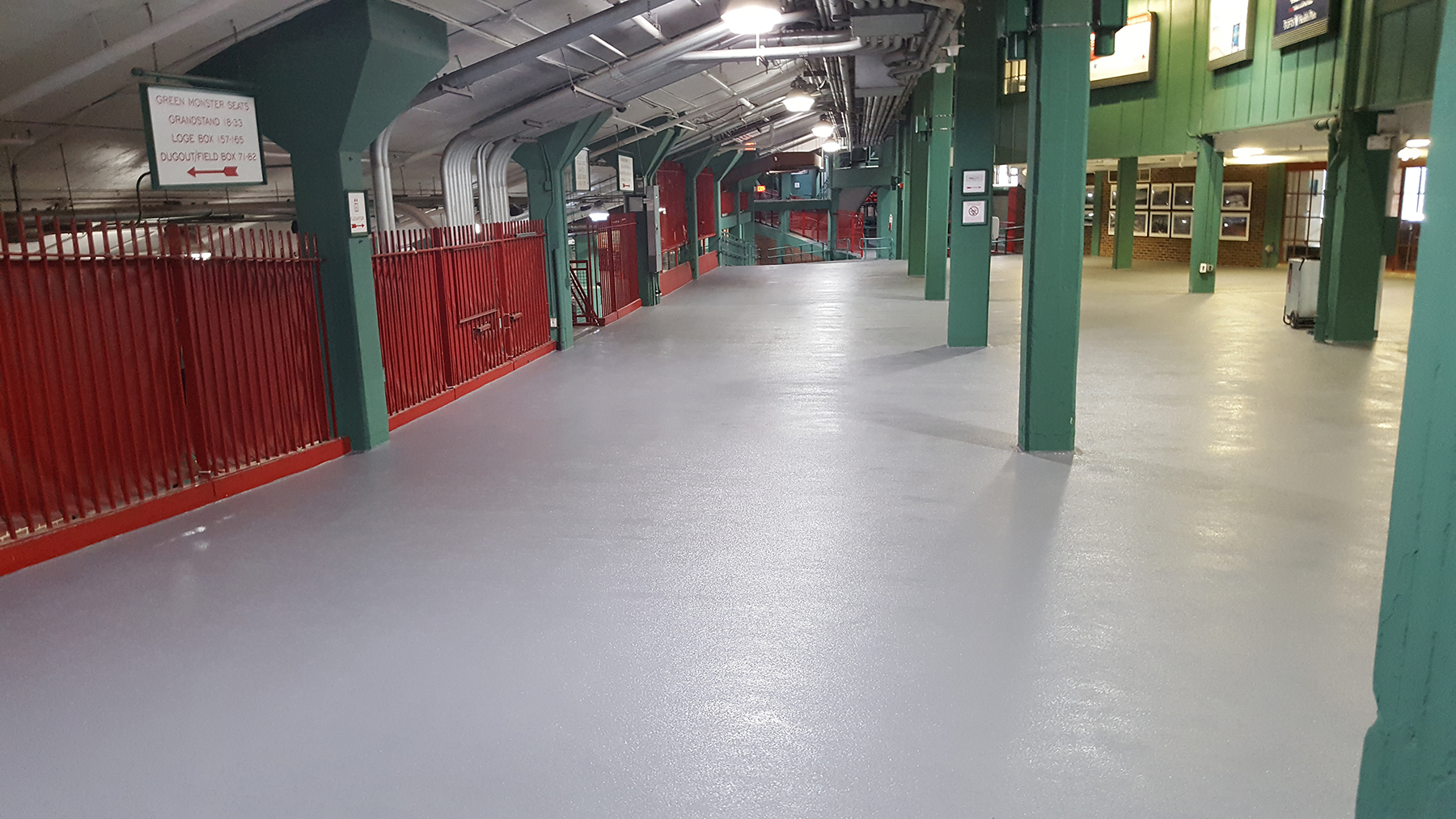 Every commercial and industrial building has a flooring foundation. This flooring is expected to last for a long time but may experience substantial wear and tear. This often happens in an office, factory, or warehouse. Custom epoxy floors and resinous concrete coatings can make a significant impact in commercial applications. Business owners and facility managers find concrete coatings advantageous and end up saving money in the long run.
Commercial and Industrial Application of Concrete Coatings
Interior concrete flooring has grown in popularity as a flooring choice for companies in recent years.
Commercial concrete floors are very durable and rugged. However, they must be properly maintained to preserve poured concrete from damage, flaws, and general wear and tear. Concrete coatings are an excellent approach to do this. Epoxy concrete coatings may be applied to almost any commercial or industrial facility with concrete substrate. Some of the most popular commercial concrete coating applications include, but are certainly not limited to, retail stores, automobile service centers and dealerships, warehouses, restaurants, and schools and universities.
What Are The Benefits and Values Of Concrete Coatings On Commercial And Industrial Floors?
When companies with traditional concrete flooring wish to improve the appearance and durability of their floors, epoxy, urethane, and resinous concrete coating installation is an excellent option for the following:
Resistant To Wear And Tear
It isn't easy to find a flooring option as economical as concrete coatings with its durability. Concrete floors may quickly fracture and chip if the surface is sufficiently damaged. Additionally, solid concrete floors will exhibit wear in locations with a lot of human-to-human activity. However, company owners may preserve their floors from natural wear and tear with concrete coatings. Adding epoxy coatings to a concrete surface makes it more resistant to wear and tear. Also, these coatings can guard against flaking, staining, ground abrasion, and other faults on business floors. Whether your company has a high volume of foot traffic or the floors are subjected to heavy machine operation, epoxy concrete coatings ensure that you won't have to worry about negatively affecting your concrete floors for an extended period.
Epoxy is a water-resistant covering by nature. Having a moisture-resistant floor may be of extreme benefit for various commercial and industrial organizations. And due to the non-porous nature of concrete coatings, your floor will no longer be stain-prone. Epoxy concrete coatings' water-resistant qualities prevent water from damaging the flooring and mold development, both of which would need subfloor repair or replacement. Numerous companies, ranging from commercial kitchens and toilets to healthcare centers and laundromats, may benefit from the moisture-resistant properties of epoxy concrete coatings.
Epoxy concrete coatings are one of the least expensive types of flooring. Indeed, when matched to other popular business flooring solutions, the cost per square foot of epoxy coating is difficult to surpass. Since concrete coatings can be placed directly over concrete flooring, installation costs are lower than for specific other flooring solutions. Affordability is one of the most important and enticing features of concrete coatings for company owners.
It is available in various color combinations.
Contrary to popular belief, concrete coatings are a commonplace flooring option with applications that extend far beyond warehouses and other industrial facilities. Indeed, epoxy concrete coatings may be utilized to enhance the aesthetics of business floors. Epoxy is composed of colored acrylic flakes in a variety of color combinations. Commercial and industrial businesses may choose from various conventional color selections or create unique epoxy floor bends. Additionally, the floors may be organized in shapes and colors, allowing commercial and industrial businesses to customize the pattern and color of the flooring to enhance the atmosphere and attractiveness of the workspace and align with their branding.
Additionally, epoxy flooring is an excellent option for business settings due to its potential to boost safety. Installing a concrete coating provides the environment's safety at work. It is a flooring solution that is resistant to impact, slippage, heat, and fire. Additionally, these texture features can significantly increase the brightness of a workspace.
Cleaning and maintaining industrial flooring often requires considerable physical activities, mainly if the floor is huge, such as a warehouse or building. This feature is beneficial for restaurants, grocery shops and supermarkets, retail stores, and other commercial facilities with floors that need continuous round-the-clock upkeep. And because concrete coatings minimize cracks and porous surfaces, they are very easy to clean – all you need is a broom, mop, and a mild cleanser to maintain your business floors in excellent shape.
Black Bear Coatings & Concrete are the industrial flooring experts. With over 30 years of combined expertise, our team is the trusted professional in this niche industry. We value-engineer commercial and industrial flooring solutions based on the environmental factors that could impact the longevity of your floor. This provides a longer-lasting product. Our flawless installation ensures a timely, accurate delivery that minimizes disruption in operations and keeps the focus on your business.
Contact us directly for more information about our epoxy, urethane, polished concrete, and MMA flooring solutions. We can walk you through all of the benefits of each solution. Plus, we can guide you to choose between polyurethane vs epoxy floor coatings. Request a free, on-site assessment. Learn how Black Bear can provide a compliant, visually appealing, and durable floor for your business.