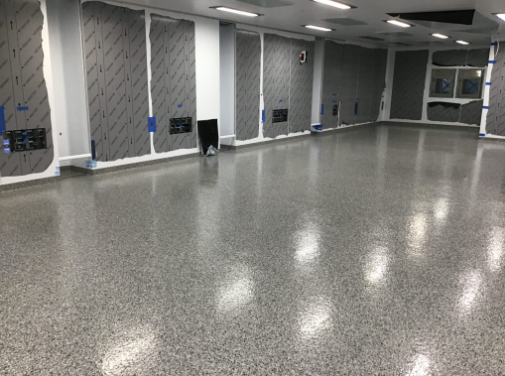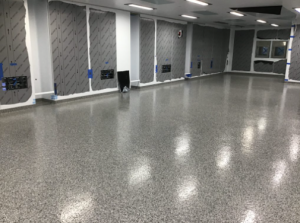 More than just a line item under the design build plan or renovation project, the right commercial or industrial floor solution can make or break a business. That said, it is not a decision that should be made without the utmost consideration and assessment.
Are Resinous Epoxy Floors Really Worth the Price?
Quite often it is all about the bottom line. And in this tight economy, budgets are being stretched to their limits.
Cost matters when building or renovating a place of business, and every aspect of the construction needs to be considered in terms of its cost/benefit. When it comes to your flooring project, you need a commercial or industrial floor solution that is both affordable and reliable. Sometimes however, those two things are in conflict, and you need to understand why paying more upfront will end up saving your business money down the line.
The good news is that a basic epoxy floor is among the less expensive options you might consider for flooring. That said, the price can, and will increase, as specific requirements are addressed. The type of epoxy used and custom epoxy blends may include extra protection from chemical spills, or more antimicrobial resistance, slip resistance and similar properties if deemed necessary that will impact final cost. But again, that could prove more cost-effective in the long run with the benefits far outweighing the escalated price – and will ultimately justify the cost.
Resinous Floor Solutions Are a More Cost-Effective Option for Commercial and Industrial Spaces
To get more "bang-for-your-buck" you must value-engineering the right floor from selection of epoxy flooring materials, epoxy coating installation, or initial repair. Concrete coatings and resinous floor systems are extremely resistant to physical damage, and capable of handling even heavy traffic from mobile workspaces and weighty vehicles. Though nothing is indestructible, the right type of epoxy floor coating will prove longer lasting and more impervious to damage and vulnerabilities that can put your people and your business at risk.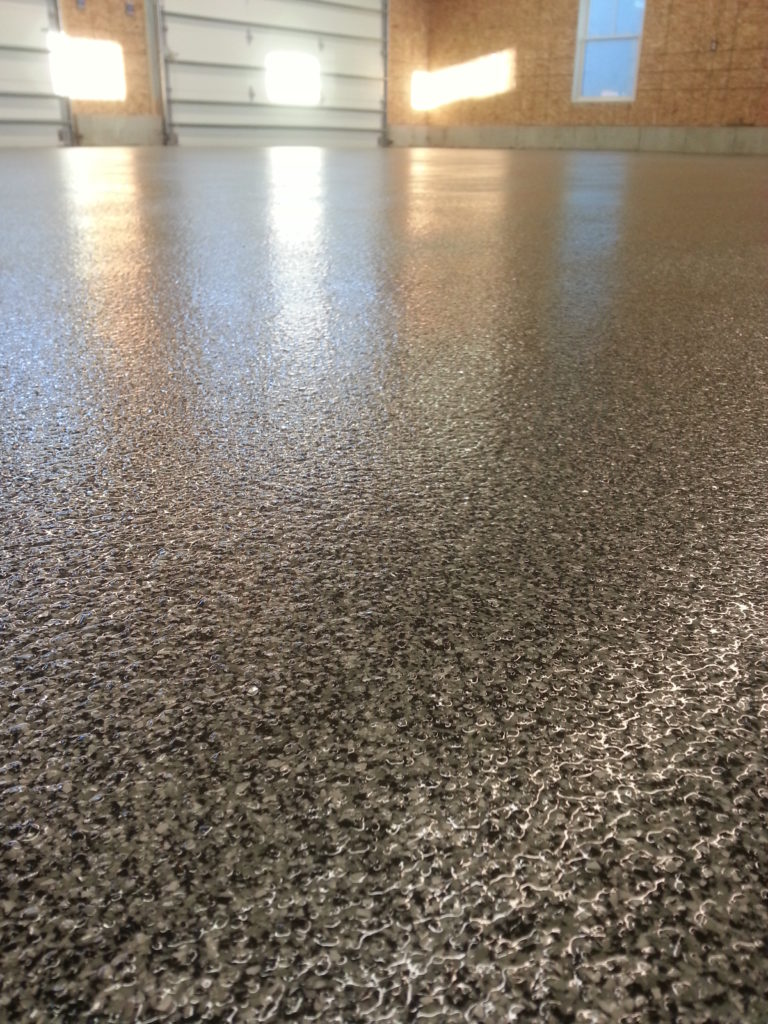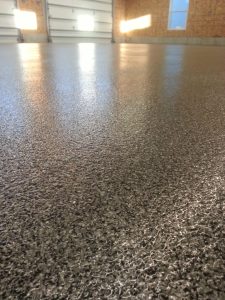 In most respects, the best choice for commercial flooring is a form of resinous coating on top of concrete. Resinous coatings are long-lasting and capable of standing up to the rigors of heavy work and traffic – unlike most other typical flooring options like planks, tiles, or vinyl. The question is, which type of resinous coating is best for your business, and which will provide the best 'bang for your buck' over the long term?
Epoxy Flooring Installation Costs
Resinous floors begin with a solid slab of concrete. This can potentially just be the foundation of the building, or a newly-poured slab if it needs to be elevated.
The concrete slab will need to be extensively cleaned and dried before the resin is applied. Dirt or moisture on the concrete will significantly degrade the lifespan of the resin! Since this is a universal cost, most contractors will work it into the overall price of their resinous system.
Next you must consider the cost of the floor material. In this article, we'll compare the three most popular options: epoxy coatings, urethane coatings, and methyl methacrylate (MMA).
Aside from material costs from formulating the right floor, you will want to make sure that you partner with an epoxy flooring contractor that is experienced and highly qualified in different application techniques. The floor material may be durable, but if it is not installed appropriately, you'll be wasting your money. The floor will inevitably fail, or worse, you may have to reinstall and fix the initial mistakes costing twice as much as you had budgeted. Sometimes, the less expensive route ends up being the more costly – both monetarily and operationally.
Most people underestimate the benefits and value the right floor system can have on an organization. Obviously, durability and longevity are top of mind to minimize repairs and replacements. However, at its core, sustainability, energy efficiency, high compliance and safety, and even the maintenance of a floor is where the real value lies with the best commercial solutions.
So, how does one determine what the right floor should cost? The answer isn't as simple as crunching a few numbers to determine cost per square foot. It's a highly individualized process that requires "reverse-engineering" a floor to the specific environment, as well as understanding a client's brand and overarching business goals. But that doesn't mean a "ballpark" estimate is unlikely. It just means you need to be realistic in the way you budget for a new floor system or a renovation. Let's take a look at some of the variables involved.
Initial Epoxy Flooring Cost Considerations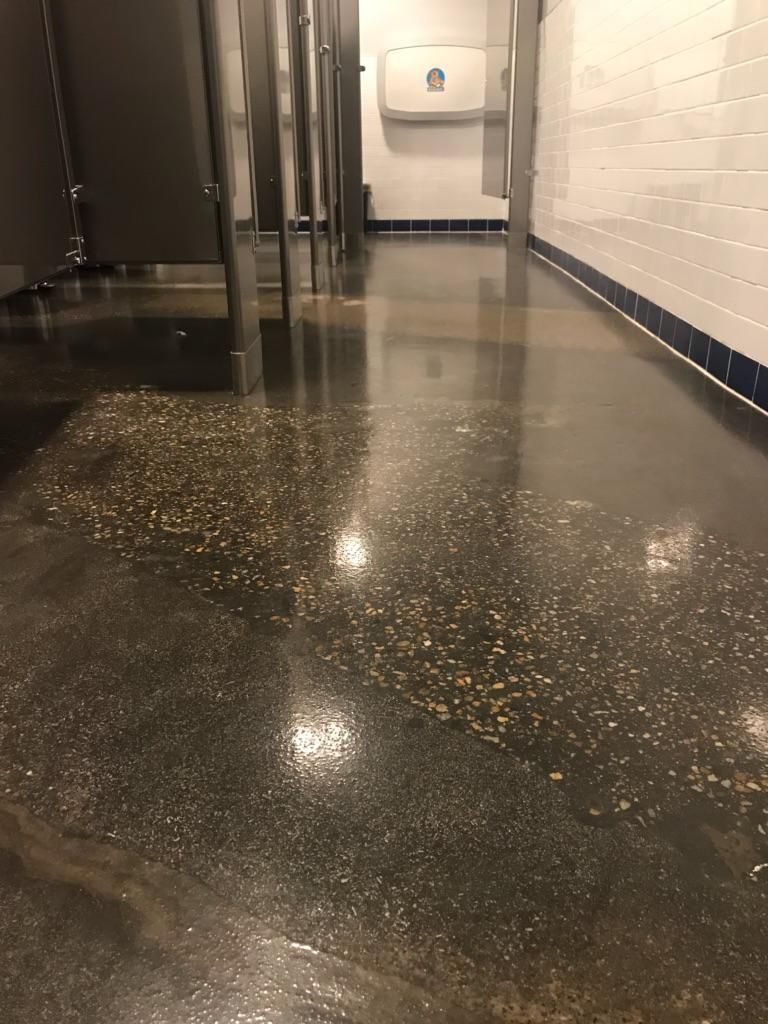 While it's easy to say that affordability is the driving factor in most commercial floor decisions, it's in your best interest to consider the factors which affect longevity and durability. The only way to truly realize a floor's value is to develop a commercial or industrial floor system that can withstand the elements of its specific environment. Only then will you get the lasting solution you desire. Consider the following epoxy floor cost considerations as a jumping-off point to helping you determine what necessary additives may be needed to engineer the right solution.
1 – Susceptibility to physical damage
Post installation you are left with a shiny, new flawless commercial floor. But how will it look a year or two down the line? Enduring objects being dropped and organic materials seeping into the substrate can ultimately corrode or destroy your floor. The cheapest option up front, may end up costing you much more than you bargained for. Materials like vinyl tiles are cheap to install, but they can also be easily damaged and will need to be repaired frequently. A tough resinous surface like epoxy flooring may appear slightly pricier up front but a durable floor coating will greatly cut down on your need for repairs and replacements.
2 – Effect of dirt on the flooring
In an ideal world, flooring will be properly and regularly maintained with sweepers, high-temp sanitization, or buffed to keep those nasty scuffs from scarring the appearance. Except for one thing, we don't typically live in an "ideal" world. A buildup of dirt won't just be unsightly, it can directly harm the flooring material – once again, compromising the effectiveness of the chosen floor system. Understanding your maintenance requirements, as well as the realistic upkeep should help a floor contractor engineer a flooring system that's right for your specific routine. Again, it may not be the cheapest option at first glance, but will likely mitigate risk of damage and safety hazards in the long run.
3 – Chemical resistance
This is where you could end up spending the big bucks – and not necessarily on the floor but on the repercussions of the dangers that lurk in selecting the wrong solution. From biohazards to food contamination, you should NEVER skimp on the chemical resistance. Seamless systems like an epoxy floor coating are ideal to prevent mold and contagion in cracks and fissures, but the added chemical formulation will further protect from harsh cleansers corroding the surface, and runoff from acidic and similar corrosive properties in labs and manufacturing facilities. Without it, you run the risk of numerous safety concerns that could easily result in contaminated product, danger to employees and customers, and a complete shutdown from state and local regulatory agencies and inspectors.
4 – Design considerations
Choosing a floor that fits with your aesthetic is also important. Many people like the style of polished concrete, but there are many options for floor coatings including metallic epoxy, decorative flakes, colorful epoxy paint coatings, and more.
Custom Epoxy Flooring Costs
Now that you are more familiar with how estimates are adjusted based on customization of the right resinous floor, take a look at some general estimate associated with basic floor installation*.
| | | |
| --- | --- | --- |
| | EPOXY | URETHANE |
| 1- 1,500 sqft | $5.25 – $8 sqft | $13-$19 sqft  |
| 1,500 – 5,000 sqft | $3.05 – $7 sqft | $9 – $12.85 sqft |
| > 5000 sqft | $2.50 – $6 sqft | $6 – 10 sqft |
| | | |
*The prices above represent average cost per square foot and do not include additives, upgraded formula or design such as metallic epoxy, nor does it include cover.*
Epoxy, Urethane, and MMA Flooring Costs Compared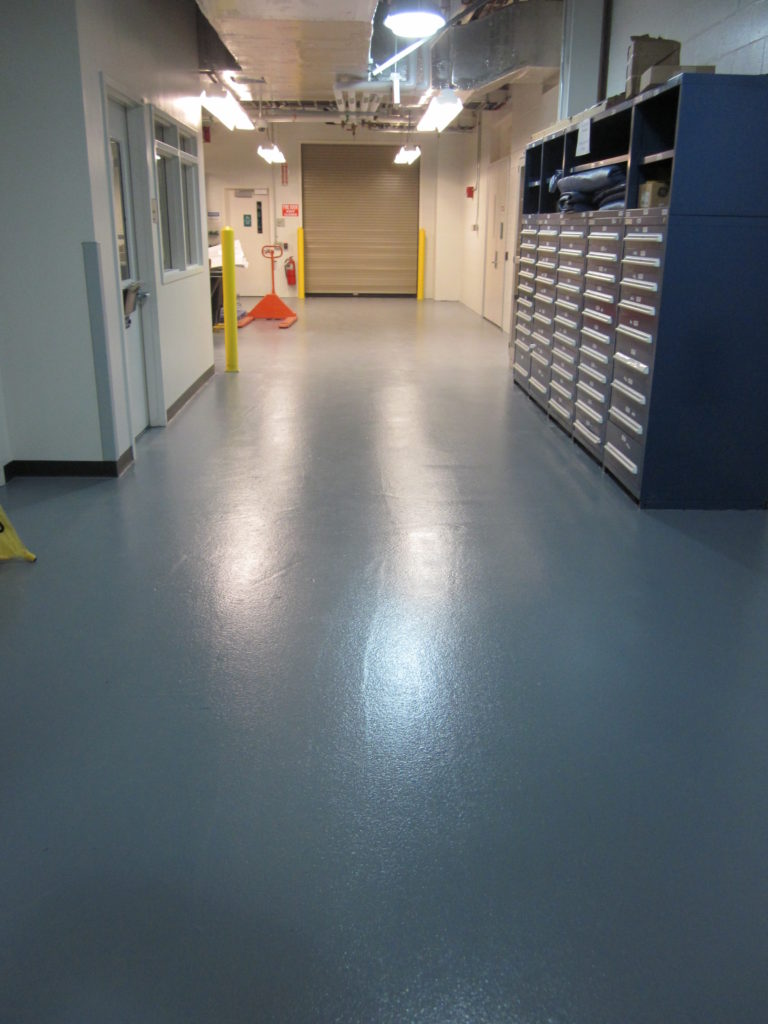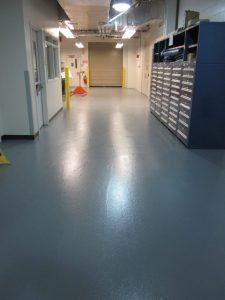 Choosing the right flooring for your commercial or industrial property is a big choice which will have long-lasting implications. When commercial flooring is expected to last 5-10 years at a minimum, this is a significant investment, and you have a lot of choices to compare. Flooring systems for commercial and industrial use must be high performance and offer value in terms of cost per square foot.
I. Epoxy Flooring Cost
Epoxy is probably the single most popular option for commercial flooring, and for good reason: it's one of the least expensive per sq ft options you can pick, while still providing superior long-term value.
Epoxy flooring can potentially be as inexpensive as $2.50 per square foot, when you're buying in bulk to cover several thousand square feet. Even on a smaller-scale job, you're typically only looking at $8 per square foot on the higher end, and that's for high-grade epoxy. This makes it easily the best all-around value in resinous flooring.
That said, epoxy coatings are not without faults. As an "all rounder," it's not suited for some specific applications. Also, epoxy is hard, but brittle – it can be damaged by falling objects, especially those with sharp points. While damage remains localized, repairs require laying down another layer of epoxy.
You must also consider the cost to install epoxy flooring. Epoxy floor coatings take a long time to cure. While it's technically walkable within 12-18 hours of being laid down, it really should not be used for 48-72 hours for best effect. This may significantly add to the real-world costs of the floor installation, if your business has to shut down for a weekend – at least – while it cures.
II. Urethane Flooring Cost
Urethane is typically more expensive than epoxy flooring but offers a few benefits over epoxy coatings for certain applications. In general, expect urethane to begin at $13-$19 per square foot for smaller jobs, and potentially go as low as $6-$10 per square foot for large-scale installations.
Why pay the extra money? There are three primary reasons.
First, urethane is not UV-reactive, unlike epoxy or MMA. So, if you're installing flooring in a place that's likely to receive a lot of sunlight, such as an office foyer, the extra cost will prevent fading over time. Epoxy or MMA floors will need to be replaced quickly if exposed to UV.
Also, urethane is less strong against crushing damage than epoxy, but it is more resilient. It resists scratching better than epoxy and is much less likely to be damaged by falling objects. This can lead to lowered repair and maintenance costs over time.
Finally, urethane can resist much lower temperatures than epoxy, and is strongly recommended for applications such as industrial freezers.
III. MMA Flooring Cost
Methyl methacrylate often surprises people with how costly it can be as opposed to other the resinous flooring options. Though prices may start at $5 per square foot for large jobs, smaller areas could end up costing as much as $12 per square foot for engineering the right floor. However, you do get long-term benefits for your money. First, it's something of a 'best of both worlds' compromise between epoxy and urethane. It's almost as strong as epoxy, and almost as resilient as urethane, while having good temperature resistance as well. Also, MMA is generally considered the most attractive-looking of the resinous coatings, so it's going to be a good choice for areas where you want to impress guests or customers.
Finally, and perhaps most importantly: MMA is extremely fast to install and cure. An MMA floor poured in the morning could be fully usable by that evening. For businesses looking at upgrading their flooring without disrupting work, this is easily the best choice. The money you save through minimized disruption can entirely offset the cost difference in installation prices.
Commercial & Industrial Flooring – Black Bear Resinous Coatings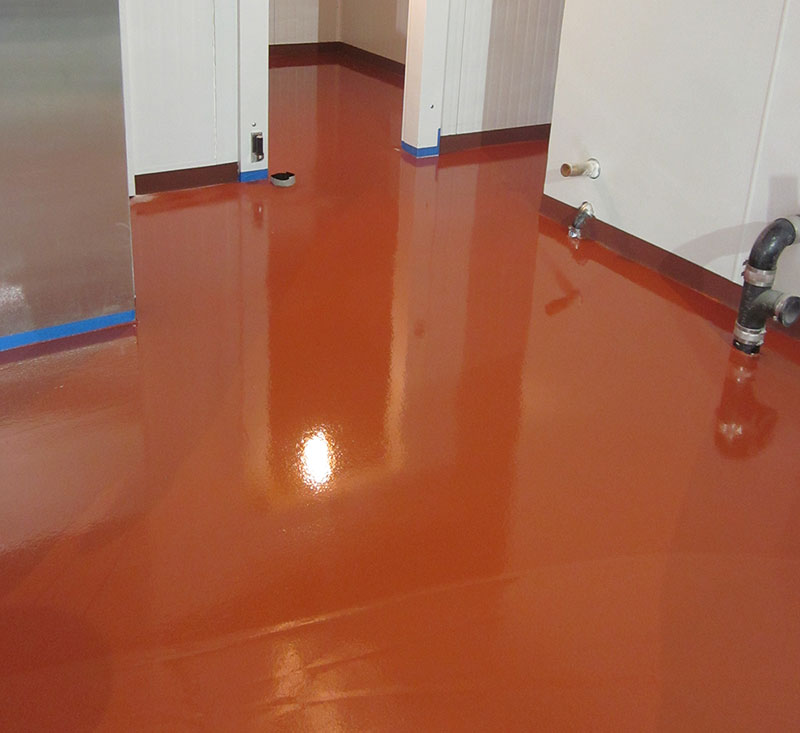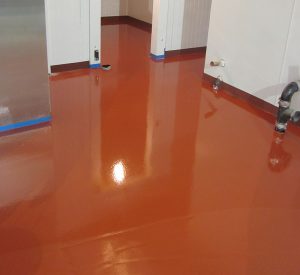 Whichever type of resin you choose, you'll be getting a strong, long-lasting, and low-maintenance floor which will provide a superior TCO and ROI compared to other business flooring types. There's simply no other good competitor in most situations. And, with over 30 years of combined expertise, the Black Bear Coatings & Concrete team value-engineers commercial and industrial flooring solutions based on the environmental factors that could impact the longevity of your floor. Our flawless installation process ensures a timely, accurate delivery that minimizes disruption to operations and keeps the focus on your business.
There's a concrete floor solution to fit any business need but there are only a few expert floor coatings installers that can provide the ideal product at the right price. Black Bear Coatings & Concrete has partnered with commercial and industrial clients to provide longer lasting concrete floors. Contact us for a free on-site consultation and to learn how we help you value-engineer better flooring solutions for your specific business.
---
For home and residential projects

Click Here
---
Common Uses
Automobile Dealerships
Pharmaceutical Manufacturing
Laboratories
Hospitals
Bakeries
Chemical Storage Areas
Commercial Kitchens
Processing Areas
Benefits
High Durability
Water Proof
Low-Maintenance
Installed with Little Downtime
Chemical & Solvent Resistant