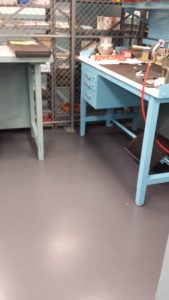 It's easy for employees and the general public to take the flooring beneath their feet for granted, but for facilities managers, commercial and industrial flooring is another matter. Proper floor surfaces are an absolute necessity for productive day-to-day operations. Compliance and OSHA health & safety inspections aside, the floor in a commercial or manufacturing facility must be able to protect the workforce from accidents, while being resilient enough to withstand abuse from everyday stressors in the environment. For many facilities managers, urethane floor solutions are so often the solution of choice for warehouses, factories, and other production spaces. Concrete flooring with urethane topcoats and applications can easily fulfill the requirements a facility manager looks for in a new solution or during a renovation.
Why Facilities Should Install Urethane Floor Solutions
One of the core strengths of urethane is that it can be formulated to meet the specific needs of a facility. If spills are the norm, an anti-slip agent can be engineered to reduce risks.  When noxious chemicals and corrosive agents are involved, urethane mortars can be formulated to resist corrosive materials – including acids, bases, and alcohols.
In addition to the additives that can be included, urethane has innate benefits including:
Easy Cleanup.  Urethane is laid as a single unbroken layer which conforms to the contours of the building's underlying floor. It is extremely easy to clean with push brooms and mops without the worry of materials being leftover causing mold or dangerous conditions.
Hygienic.  The seamless nature of urethane floor coatings also means they are safe for use in food and pharmaceutical production facilities.  No cracks or joints means there's no way for microorganisms or bacterial agents to take hold.
Strong.  Urethane can withstand significant pounding, motion and vibrations including the use of heavy machinery and mobile resources such as forklifts and indoor vehicles.  Its durability is longer lasting with little need to repair or replace flooring.
UV Resistance.  Unlike other forms of floor coating – such as epoxy – urethane is highly resistant to long-term damage from ultraviolet light.  This includes both natural sunlight, as well as concentrated UV lamps that you may have in use.
Preferred Partner for Urethane Floor Solutions and Industrial Coatings
With over 25 years of combined expertise, the Black Bear team is a trusted partner in this niche industry.  We value-engineer commercial and industrial flooring, including urethane floor solutions, based on the environmental factors that could impact the longevity of your floor. This provides a longer-lasting product. Our timely, accurate delivery minimizes disruption to your operations and keeps the focus on what's really important – daily operations and your business.
Take a look at some of the urethane coatings we have engineered for clients. Schedule a free on-site consultation to learn how our epoxy, urethane, polished concrete, and MMA flooring solutions, and Black Bear's pioneering approaches to flawless installations can provide a compliant, visually appealing, and durable floor for your business.