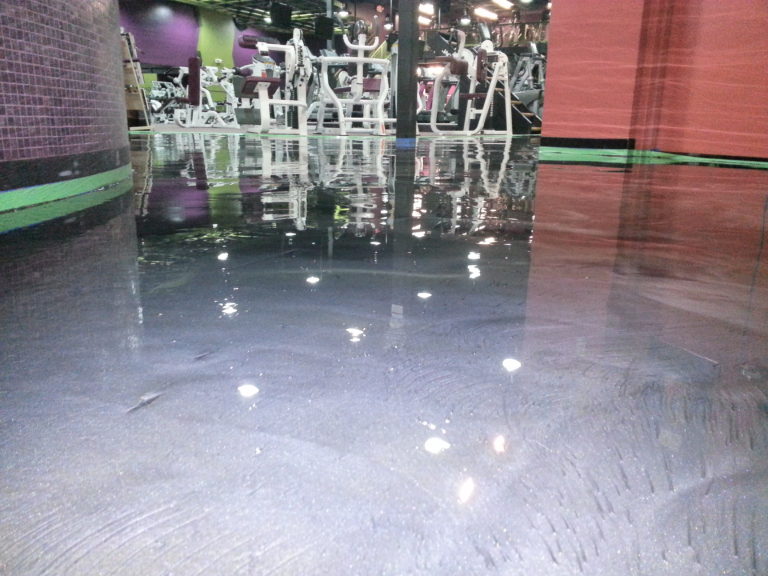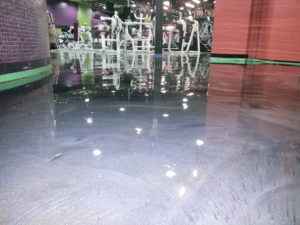 Metallic epoxy floors have become a popular commercial flooring option, because of their exotic, yet durable, beauty and the ability to design a floor pattern that is uniquely yours. While from a creative standpoint, there is no right or wrong result, it is important for you to follow certain guidelines and metallic epoxy techniques for a successful installation. Continue reading to learn how to install metallic epoxy floors for commercial use.
HOW TO INSTALL METALLIC EPOXY FLOORS:
How to Install Metallic Epoxy Floors: GETTING STARTED
The principles for preparing to install a metallic epoxy floor are similar to that for any other epoxy floor. You need to start with a clean, flat, ground surface, preferably concrete. After prepping your foundation by diamond grinding or similar process, the first thing you apply is an epoxy primer. Due to the sensitivity of metallic coatings to dust, you will need to constantly wipe away any dust from the floor throughout the entire primer application process.
After the priming is finished, your next step is to apply a substrate, or base, to your floor. A dark substrate is recommended for the metallic epoxy to bring out its reflective properties more effectively, which will add to the overall beauty of your finished floor.
How to Install Metallic Epoxy Floors: THE METALLIC LAYER
The metallic portion of your floor actually consists of three different products:  clear resin, hardener, and metallic coloring. Mix these three components together slowly to avoid bubbles.
Once again, inspect your floor to make sure it is free of any dust or dirt before applying the metallic layer. Your goal is to use between 500 to 700 grams per square meter. Apply less and you won't have adequate coverage.  Apply more and it will be too thick, which will block the metallic effect from shining through.
A mohair roller or squeegee can be used to help coat your floor evenly.
How to Install Metallic Epoxy Floors: THE MULTI-COLOR EFFECT
When applying multiple colors, it is important to mix each color separately before application or you run the risk of one color dominating the other. Pouring each color in an opposite direction, never on top of one another, will provide the desired multi-color metallic epoxy effects.
Related: Learn about Metallic Epoxy Floor Pros and Cons
How to Install Metallic Epoxy Floors: PROTECTING YOUR NEW FLOOR
Applying formulated topcoats will protect the metallic surface from scratches. A polyaspartic or urethane product is recommended because they are scratch and UV resistant. When applying a polyaspartic, it is important to take steps to remove any roller lines to achieve a smooth and cohesive surface without distortions.
BEST WAY TO INSTALL METALLIC EPOXY FLOORS? THE COMMERCIAL EPOXY EXPERTS!
With over 25 years of combined expertise, the Black Bear team is a trusted partner in this niche industry. We value-engineer commercial and industrial flooring to provide longer-lasting solutions for our clients. Our flawless installation ensures a timely, accurate delivery that minimizes disruption in operations and keeps the focus on your business.
Take a look at some of our metallic epoxy floor images from coatings we have installed for clients throughout New England and the East coast. Contact us for more information how to do metallic epoxy flooring at your business. Or, inquire about our epoxy, urethane, polished and metallic solutions, and MMA flooring solutions. Request a free, on-site assessment to learn how Black Bear can provide a compliant, visually appealing, and durable floor for your business.