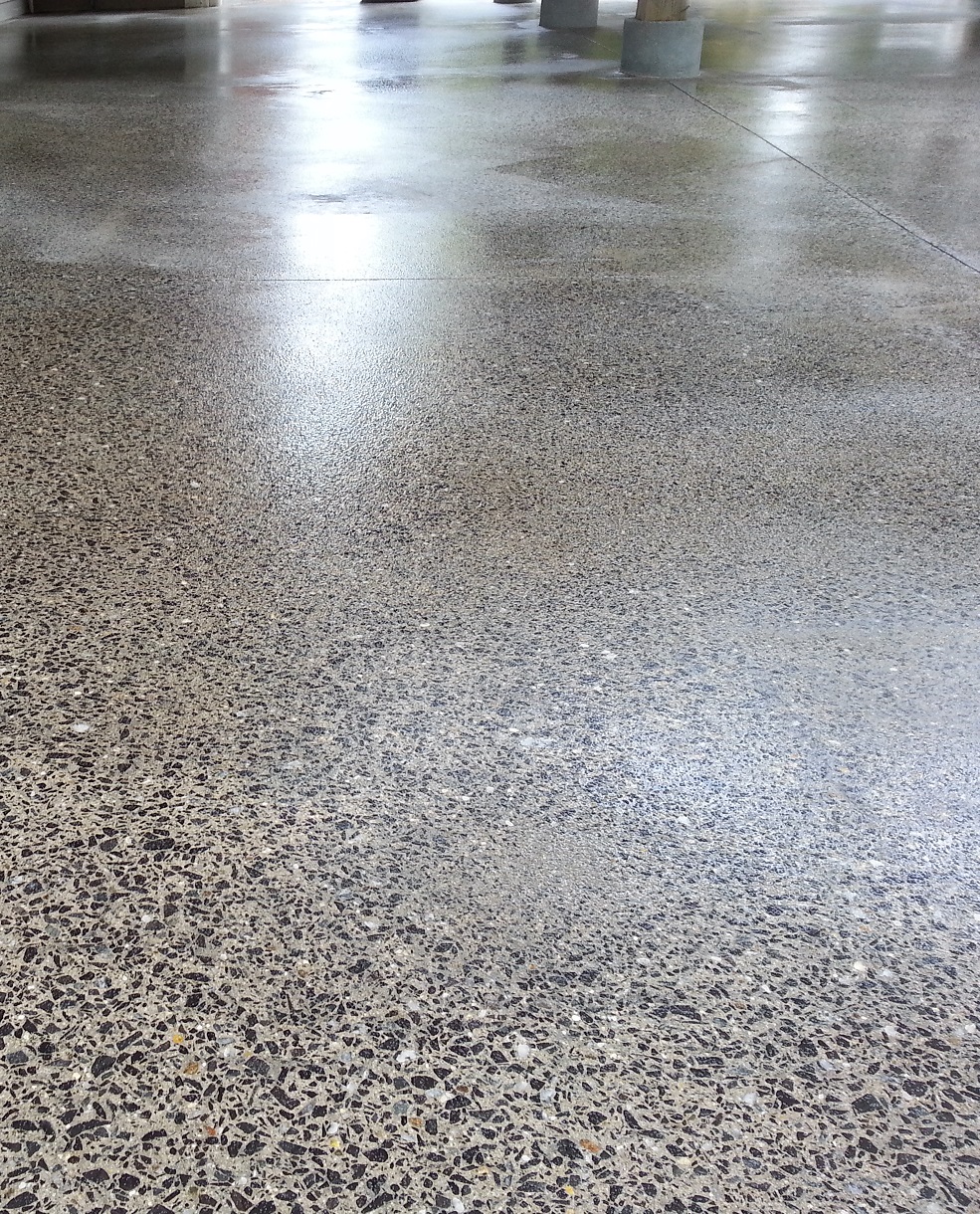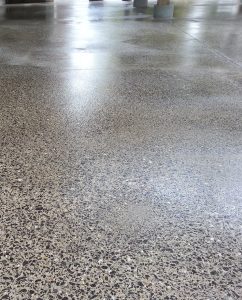 As with all flooring materials polished concrete has a variety of benefits that have made it an extremely popular flooring choice for commercial and manufacturing facilities, processing plants, shop and production floors, communal areas in these facilities, as well as other high traffic environments. There are also some drawbacks to using it in certain areas, but many of them are easy to overcome, and in the end, the positives of polished concrete flooring far outweigh the negatives. It is important to understand the demands of the environment where the flooring will be located as well as the pros and the cons before making a final flooring decision.
Get Our Whitepaper on How to Choose The Right Flooring .
Pros
High Durability.
Polished concrete flooring is extremely strong and resilient and is able to withstand the pressure from very heavy foot traffic and equipment. It is very difficult to damage and is nearly impossible to chip or scratch.
Life-Span.
A properly installed, sealed and maintained polished concrete floor can be expected to last a hundred years or more in even the harshest commercial environments. Its life-span will also far surpass that of other floor coverings, such as carpeting, vinyl tile and wood laminates. That means in the long run you can save money because you'll never need to remove and replace worn or damaged flooring.
Easy to Maintain.
Polished concrete flooring is relatively easy to maintain. You just have to dust mop or broom sweep daily to prevent dirt accumulation. You should also damp mop it weekly to remove smudging, scuffs, and water marks, and restore gloss. Depending on your polished concrete floor finish, you may have additional maintenance requirements.
Cost-Effective.
Depending on the level of complexity, polished concrete floors can cost as little as $2 a square foot or as much as $30 a square foot. Most installations are quite cost-effective, especially if you have an existing concrete slab that's all ready for staining, polishing or application of a decorative coating or overlay. The price savings doesn't always come at installation, but over its lifetime because the only reason you'll have to replace it is if you get tired of the look, especially if you factor in maintenance costs.
Many Design Options.
Today, there is an endless variety of color and texture effects and can simulate the look of dozens of different pricier materials. You can also add decorative engraving and stenciled graphics into the surface.
Sanitary.
Properly finished and sealed concrete can be virtually resistant to fluids, especially water. Coatings can provide waterproof barriers that seal the concrete and prevent contaminants from actually getting to the concrete. Some coatings can also provide anti-microbial protection. And high quality concrete flooring shouldn't have cracks or crevice in the surface that can trap food and dirt and harbor bacteria.
Slip-Resistant.
Any concrete surface can be slippery especially in moist environments or areas prone to spills, but, it can also be sealed with a non-slip epoxy coating to add texture and prevent falls and injuries.
Chemical-Resistant.
A non-sealed concrete floor is porous, although, concrete floors can be sealed with a chemical-resistant epoxy coating to protect them against extreme chemicals (alkalis and acids) and corrosion.
Thermal Shock-Resistant.
Thermal shock-resistant coatings can be applied to concrete flooring to ensure that disbondment, delamination, cracks, bubbles and other deterioration does not occur if your floors are subjected to very hot water or steam washes.
Static Dissipative.
An unsealed concrete floor often exhibits antistatic tendencies, although, they are dependent upon the floor's moisture levels, making it unreliable. Anti-static coatings can be applied to concrete flooring to ensure static discharge doesn't cause damage to static sensitive equipment.
No VOC.
Concrete floors do not contain harmful Volatile Organic Compounds (VOC) like hardwood floors, vinyl carpets and synthetic carpets.
---
We can help you with your pros and cons list and make your flooring project a success.
Contact us today for a free estimate.
---
Cons
Hard.
The strength and durability of this material can also be a drawback as the surface is very hard, so it won't cushion or "give" under feet, making it uncomfortable to stand on for long periods of time. To overcome this, you can add anti-fatigue mats to areas where employees face hours on their feet on a day-to-day basis.
Cold.
Another drawback of concrete floors is that they do not tend to retain heat very well. That means that in the winter the surface of the floor is going to feel chilled, but no more so than ceramic tile or natural stone flooring. To overcome this, you can embed radiant heating cables in concrete floors to reduce heat loss. Best of all, you'll usually pay lower utility costs than with a forced-air system, because concrete floor radiant heating consumes less energy to achieve the same level of comfort.
Moisture.
If concrete flooring is not properly finished and sealed, it will be very susceptible to penetration by moisture. If liquid does manage to make its way into the pores of a concrete floor, it can sit there and lead to the growth of mold or mildew. If you have a trusted professional installing your polished concrete flooring, you shouldn't have to worry about this.
Loud.
Polished concrete floors can be loud like ceramic tile, natural stone flooring, and some hardwood or bamboo floors. To reduce the noise, you can furnish the space with rugs, heavy drapes, acoustic wall panels and other elements that absorb or block sound.
---
Black Bear Coatings & Concrete has extensive knowledge of polished concrete floors in commercial and industrial environments. With over 25 years of experience, our crews have the skills required to create a floor that meets each client's unique maintenance and aesthetic needs. See some of the work we have done with other clients in our gallery.
Black Bear is a leading concrete and coatings flooring company that serves New England – Maine, Massachusetts, New Hampshire, Northern Connecticut, Rhode Island, Vermont, as well as New York (north of New York City). Rest assured that we have the staff, equipment, and expertise needed to make your floor project a success. We spend time upfront to assess each client's needs, identify the best flooring solution, engage in the right preparation, and then install the floor using industry best practices. We'd love to help your company.
Contact us today for a free estimate.