When designing and building a facility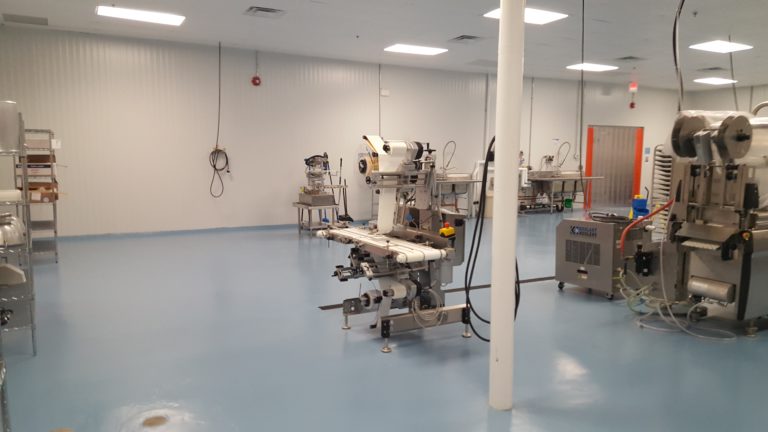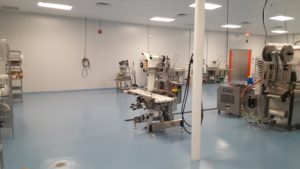 for producing foods or beverages, every element must be considered in terms of its ability to help you create safe products for the market – and that includes the floor beneath your feet.  The right flooring solution can do a lot to ensure the success of your endeavor, safeguarding the integrity of your products and your workers alike. An epoxy coating is ideal for many of these environments, which is why it's become a popular floor solution of choice for manufacturers of perishables.
What Food & Beverage Facilities Need From A Flooring Solution
1 – Strength
Industrial flooring needs to be strong enough to hold up against plenty of foot traffic, as well as any vehicles you have operating in the facility.  Epoxy is a strong flooring material, able to support even large mobile machinery like forklifts.  It's ability to withstand wear and tear results in a decreased need for repair and renovations which can cause operational bottlenecks.
2 – Hygiene 
Food and beverage facilities adhere to strict health codes. An industrial floor system must be able to put up with spills and runoff without harboring any microbial life or other contaminants that could ruin your products.  With its smooth surface, epoxy is already inhospitable to most microorganisms, and you can also get formulations which are enhanced for extra antibiotic properties to reinforce the protective barriers.
3 – Easy Cleanup
Spills and other accidents will be common in a food processing facility, so your floor needs to be well maintained.  Epoxy creates a single smooth wall-to-wall surface that makes cleanup and sanitization easier than many other floor systems. Plus, it can be treated to withstand chemical resistance and thermal shock absorbency common in intense cleansers and clean-room environments to keep a hygienic and sanitary space.
4 – Non-slip
Since spills will occur, you also need a surface that's safe for your workers to stand on because there's no such thing as a minor accident when employees get injured on the job. Despite looking slick and shiny, epoxy is actually extremely "grippy" – even when it's wet.  Being a non-slip surface means minor spills will do little or nothing to inhibit production, and you'll see fewer accidents as well!
Black Bear is the Trusted Name in Commercial and Industrial Flooring
Black Bear Coatings & Concrete, the industrial flooring experts, has over 25 years' of combined expertise engineering and installing flawless urethane and epoxy seamless floor solutions. Our team is the trusted professional in this niche industry. We value-engineer flooring solutions based on the environmental factors that could impact the longevity of your floor. This provides a longer-lasting product. Our pioneering installation techniques that result in industry standard ensures a timely, accurate delivery that minimizes disruption in operations and keeps the focus on your business.
Contact us directly for more information about our epoxy, urethane, polished concrete, and MMA flooring solutions. Request a free, on-site assessment to learn how Black Bear can provide a compliant, visually appealing, and durable floor for your business. Whether you require a urethane or epoxy seamless floor, we can guide you through the buying process.