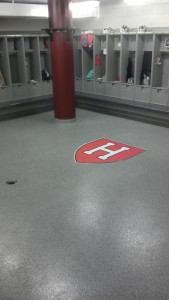 In commercial facilities finding the right finishes can be tough. Designers must strike a balance between durability, maintenance, and aesthetic considerations. When it comes to commercial flooring, five trends have emerged this year which will shape the way commercial projects are designed.
1. Bold graphics and bright colors. In commercial facilities, designers have embraced bright color schemes and that extends to floors. Many commercial buildings include graphics within flooring, such as bold geometric shapes. Concrete floor systems lend themselves well to these types of designs. Floors can be installed that incorporate multiple colors, graphics and logos, and different textures.
2. Green flooring materials. As businesses embrace environmental sustainability, many are also looking for building materials that are green. Concrete flooring solutions make sense for these organizations. Concrete itself is comprised of materials that are plentiful. In addition, concrete floors have a long life due to their durability. On projects where resinous coatings are used on top of concrete floors at facilities, products are available that contain no volatile organic compounds.
3. Terrazzo flooring. Although terrazzo has been around for a long time, it is enjoying a resurgence in commercial buildings thanks to its long life, low maintenance, and ability to incorporate recycled materials. Terrazzo floors have chips of glass, stone, or other materials that are embedded in tinted cement and then polished to an attractive sheen. Black Bear Coatings & Concrete offers terrazzo restoration services for large facilities that would like to give their floors a facelift. Building owners and operators find that terrazzo resembles marble and quartz, but costs much less. Terrazzo is a popular option for lobbies and other areas in corporate, healthcare, and higher education facilities.
4. Polished concrete. Another fashionable flooring option in commercial spaces these days is polished concrete. This material works well in areas with high foot traffic. In addition, it is one of the most cost effective flooring systems since concrete floors will last for the lifetime of the building. Designers like polished concrete because it reflects light and is an affordable alternative to marble and other expensive stones.
5. Acid stained concrete. This commercial flooring solution is appealing to high end retailers and shopping mall operators. It provides a classic, elegant, and natural appearance. In addition, like most concrete floors, it is very easy to maintain. From a design and construction perspective, one of the benefits of acid stains is the fact that they can be used on existing concrete. As a result, the base flooring can be retained which reduces project costs. Acid stains are also highly customizable, so a wide range of colors are available to choose from.
If you are renovating a large commercial space or designing new commercial construction, you may want to consider these flooring trends for your project. Black Bear Coatings & Concrete would be happy to help you and your design team. We have extensive experience installing concrete floor systems in a variety of industries including restaurants, retail, healthcare, manufacturing, and more. We can help you find the best flooring solution that will meet your aesthetic, financial, and maintenance needs.
Black Bear is a leading concrete and coatings flooring company that serves New England – Maine, Massachusetts, New Hampshire, Northern Connecticut, Rhode Island, Vermont, as well as New York (north of New York City). Rest assured that we have the staff, equipment, and expertise needed to make your floor project a success. We spend time upfront to assess each client's needs, identify the best flooring solution, engage in the right preparation, and then install the floor using industry best practices.
We spend time upfront to assess each client's needs, identify the best flooring solution, engage in the right preparation, and then install the floor using industry best practices. We'd love to help your company. Contact us today for a free estimate.