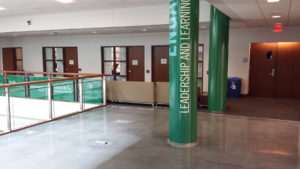 There's no "one size fits all" solution to flooring for educational buildings.  Schools and university floor solutions must be engineered specifically to fit the use of the space – only then can you create an environment that protects students and visitors and stands the test of time.
Black Bear partners with colleges and universities to develop and install resinous systems and concrete coatings for different areas on campus. Each floor is reverse-engineered for optimal results based on the individual stressors of the space. Continue reading this blog post to learn about some of the top areas of flooring for educational buildings that we often work with:
Top Areas of Flooring for Educational Buildings to Maintain Compliance:
Classrooms:  
Classrooms need all-purpose flooring, particularly flooring which can handle a lot of abuse while being easy to clean.  So, we strongly recommend epoxy-style coatings for any classroom flooring option.  Epoxy is one of the hardest of flooring substances and can stand up to a lot of abuse. This is also an ideal solution for cafeterias and kitchens since it's easy to maintain for hygienic purposes.
Science labs:  
Labs are tricky, because of the possibility of chemical spills.  You don't want a harsh contaminant spill to erode your floor.  Polyurethane flooring is a popular choice for science classroom flooring because it's naturally resistant to a lot of chemicals.  And, if your lab will have any compound chemicals, it's usually possible to adjust the formulation to be resistant to foreign substances.
Walkways, Access Points and Public Areas:  
You want your entryways and other areas frequented by guests to be impressive, as well as structurally sound. Metallic epoxy has metal particles added to the mix, creating an eye-catching swirled effect.  Or, for something more traditional, MMA (Methyl Methacrylate) can have stone flakes added to it for that classic "speckled floor" effect.  Both, are also highly durable solutions and easily maintained.  MMA also has the benefit of being UV resistant, so it's great for areas that will get a lot of sun.
Other areas of consideration include locker rooms and athletic facilities, office spaces, parking areas, and equipment storage. Each area of the campus must be assessed to determine the best flooring solution. Plus, you'll want an experienced contractor to install each system in a pre-determined timeframe to eliminate unnecessary disruption to the university.
Related Resource: Customized Solutions for University Dining Halls & School Cafeteria Flooring
Black Bear: The Northeast's #1 Team for Installing Flooring for Educational Buildings
Black Bear saves you money by installing optimal flooring that outlasts and outperforms other systems. Check out our work for schools such as Babson College, Harvard University, and St. Bernards High School. Then, learn why our team is chosen to design and install the best school and university flooring solutions in the Northeast. Want to learn more about the best flooring for schools? Download our guide to flooring for educational facilities. Feel free to contact us below to learn how we can assist you on your next commercial flooring project at your educational facility.