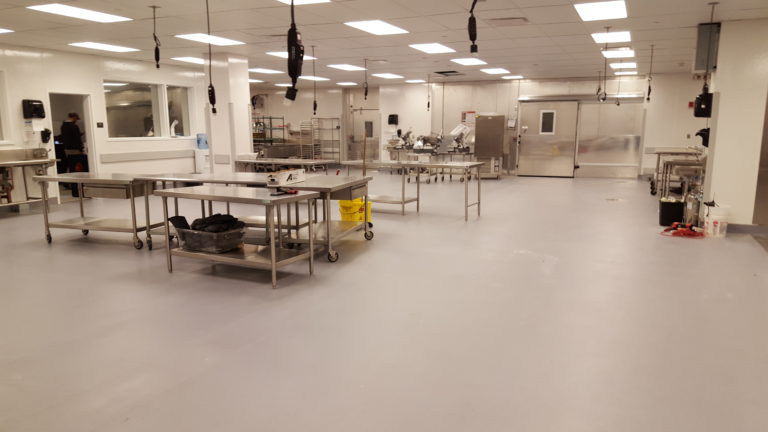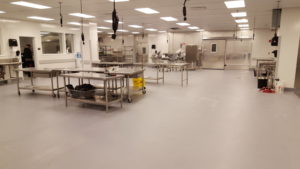 For those in food and beverage manufacturing, or looking to enter the sector, there are a lot of aspects of your facilities to consider. One critical area that should never be overlooked, however, is your choice of flooring.  Not all flooring will be FDA compliant and meet the regulations that cover food and beverage manufacturing. The wrong industrial food and beverage flooring choice could lead to costly fines and renovations, or worse – result in a complete shutdown of operations until replaced.
Typical Food and Beverage Flooring Requirements
1. A Sterile Environment
The most critical aspect of flooring for food and beverage companies is that the floor cannot be a vector for contamination, or a breeding ground for harmful microscopic life.  There are several flooring types that simply cannot meet this standard.  For example, a floor system requiring grout cannot be used for food and beverage handling. The grout is impossible to fully sanitize and keep sterile.  Concrete-based floors alone will not withstand the elements since they will always be at least somewhat porous. An impermeable coating is required to bring concrete floors to code for food and beverage manufacturing.
2. Flat Unbroken Surfaces
Flooring for this particular industry should be seamless.  Any cracks or seams, even microscopic, can become breeding grounds for bacteria, mold, or other contaminants.  Flooring options such as epoxy or urethane are a preferred choice for food plant flooring or food manufacturing flooring because they can be laid down (often poured) and create a truly seamless surface across your entire floor.
3. Non-Slip Flooring
The right non-slip flooring option is critical for the safety of your workers, as well as keeping productivity high.  This is, of course, most true for those working with beverages – spills need to be easy to clean up, and be as slip-resistant as possible.  Fortunately, there is a range of floor coatings such as epoxy which can be added to the top of existing flooring to add non-slip properties.
4. Chemical Resistance 
Finally, you need a floor that will be resistant to any chemicals that happen to spill over from processing. This includes acids and other solvents.  Given the range of chemicals that can be utilized in the production of foods and beverages, this can be a major concern.  The right food and beverage flooring contractor can work with you to understand the chemicals in use at your facility and find chemical-resistant flooring options that will stand up to abuse.
FREE Whitepaper: Improving Safety & Hygiene with Commercial Food and Beverage Flooring
Black Bear Coatings & Concrete Are Industrial Food and Beverage Flooring Experts

For over twenty-five years, the Black Bear team has provided high-quality solutions in flooring and commercial coatings suitable for a variety of spaces including food and beverage manufacturing, restaurants and commercial kitchens, and cafeteria environments.  We partner with businesses to provide food and beverage flooring solutions that keep your workforce safe. We help you maintain full compliance to help keep you in business. Contact Black Bear today for a full on-site consultation. Learn how our FDA approved flooring and USDA approved floor coatings may be right for your business.