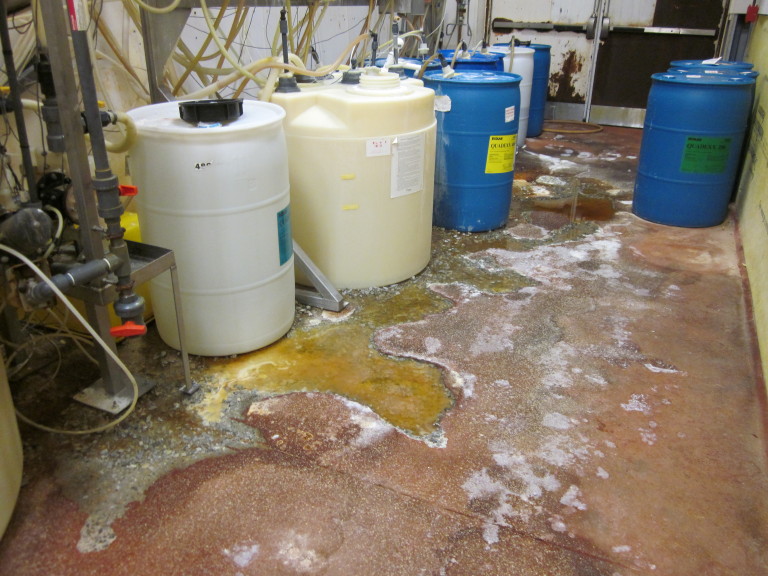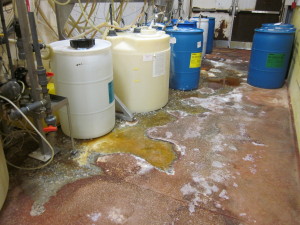 One of the most common questions we get from Operations Managers is how we value-engineer solutions for food and beverage processing plants. With over 25 years of experience in the industrial flooring space, we understand the challenges and conditions that need to be addressed, and always assess the environment before presenting options to managers in the industry.
Typically, processing plant flooring should be replaced every seven to ten years. Advancements in flooring technology offer more sustainable products that extend the life of your floor. In order to keep costs low, and reduce the need to repair or replace existing floors earlier, Black Bear Coatings & Concrete looks at a number of variables when we address a food and beverage manufacturing site.
Wet and/or Dry Conditions: Depending on the type of business, it's not uncommon for food and beverage manufacturers to have both wet and dry spaces in the building. For example, wash bays that are prone to moisture may require extra layers of waterproofing, and a seamless system to growth of bacteria, molds and fungus that can comprise the plant's hygiene.
Hygiene: Food processing plants are held to strict health standards imposed by regulatory agencies including the USDA, FDA, EPA, and boards of health. And adhering to these protocols starts from the ground up. Food service flooring is subject to byproducts and liquids including oils, fats, grease, moisture, acids, and natural corrosive elements. A durable, seamless solution is required that avoids seepage into the substrate and causes health code violations.
High Temps vs. Low Temps: From steam-cleaning and sanitization, to freezers and refrigeration units, Black Bear assesses the climate in which the installation will take place. Depending on the overall temperature of the space, specific flooring to withstand high heat or resist cracking from sub-zero conditions may be necessary.
Chemical Resistant: Industrial floors takes a beating in chemical storage spaces, as well during the regular sanitization processes. Harsh cleansers and stored chemical compounds used by food manufacturing plants can deteriorate floors – compromising safety and leading to bacterial growth and unsterile conditions. The toxicity levels of byproducts in the plant and a chemical resistant system may need to be addressed when engineering the appropriate flooring.
Impact and Slip Resistant: Most manufacturing plants employ workers in various, around the clock shifts. Constant foot-traffic, combined with tread and impact from mobile equipment, requires skid and traction control. Government regulations mandate that manufacturing plants have non-slip flooring to improve workplace safety; and a strong, durable material will hold up longer under 24/7 stress and motion.
Aesthetics: Many industrial flooring solutions for food and beverage manufacturing plants are now available in customizable colors and styles. For new or renovated spaces, Black Bear consults with the client to see how much emphasis should be placed on the look and feel of the surface to determine where design factors into a solution.
When you install a new floor in a food and beverage manufacturing plant, or require a replacement system that is a stronger, longer-lasting product talk to the experts at Black Bear. Let us work with you to value engineer a solution that is right for your business.