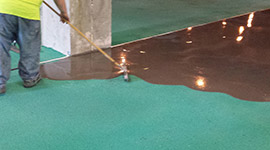 While concrete coatings are one of the most durable and long-lasting flooring solutions, they aren't without fault.
Concrete by nature is a porous substance that can trap moisture, permeate throughout, and travel upwards – damaging topcoats and compromising floor systems. This can be particularly dangerous in some industries that rely on specific floor coatings for compliance and workplace safety.
Vapor Mitigation Flooring
Reputable contractors will investigate the environment and adjacent spaces to determine if the moisture both in the surroundings and trapped in concrete can become problematic for a surface. If there is an immediate threat of wetness, or imminent vapor transmission that could damage the topcoat, a mitigation system should be explored.
Vapor or moisture mitigation, as it is referred to, will protect concrete flooring from wetness. When implemented, a vapor mitigation system will prevent the innate moisture in concrete from traveling to the surface. If installed properly, a vapor mitigation product will create an impenetrable barrier between the concrete and top coat of resinous flooring solutions.
Signs You Need a Vapor Mitigation System
While it is becoming commonplace to suggest vapor mitigation systems in new concrete floor applications to prevent transmission of moisture, there are ways to determine if it is needed for existing floors. Telltale signs include bubbling, cracking, and curling of topcoats. These failing floors indicate the need to test for moisture and repair the surface before additional erosion occurs. Waiting too long can be costly to repair and pose dangerous working conditions. Hidden signs, seldom caught by the individual and often uncovered during resurfacing, can include failing joints, uneven surfaces, and concaving substrate. If present during renovation, complete concrete repair will be necessary prior to utilizing a vapor mitigation product.
Vapor Mitigation Installation
When installing or restoring a concrete surface, vapor mitigation sealants are either applied directly to the concrete surface, or are additives mixed directly into the concrete which reduce porosity when dry. This provides the protection needed to create a lasting surface that will minimize the risk of workplace hazards.
Black Bear Coatings & Concrete specializes in vapor mitigation systems. With over 30 years of combined expertise in engineering and installing concrete coatings, we've witnessed the value mitigation products have on developing more reliable floors. We custom engineer solutions that regularly include vapor mitigation to provide clients with the highest quality epoxy, urethane, polished concrete and resinous coatings.
As you choose new flooring for your facility, be sure to partner with an experienced flooring company. Black Bear Coatings & Concrete has over 25 years of experience designing, installing, repairing, and maintaining concrete floors.
We spend time upfront to assess each client's needs, identify the
best flooring solution
, engage in the right preparation, and then install the floor using industry best practices. We'd love to help your company.
Contact us
today for a free estimate.