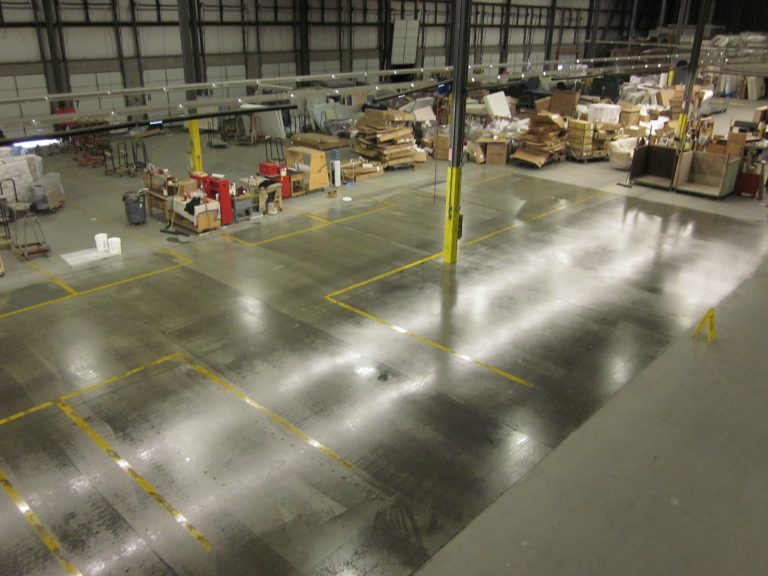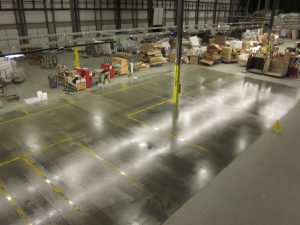 The Northeast has a long history of being home to some of the earliest manufacturing facilities – with remnants of suburban mill towns spread throughout the region. As of late, the area is again a mecca of production, and factories are churning out everything from candles to candies, pharmaceuticals to fashions, and everything in between.
This surge of reborn industry has paved the way for new construction as well as renewed interest in the restoration and maintenance of older plants – requiring top technology and enhanced building materials that increase productivity and workplace safety.
Facility managers are cognizant of the safety regulations set forth by local and federal authorities. OSHA inspections are commonplace and violations could result in costly repercussions. From loading docks, manufacturing floors, break rooms and lobbies, plant managers need to be diligent about selecting materials that could decrease workplace hazards. Industrial flooring plays a significant role in workplace safety and can help to reduce OSHA violations and incidents on your property.
Slip Resistant Floors – Today's manufacturing flooring can be engineered with slip resistant properties to offer greater protection against slick conditions and falling hazards. Manufacturers can reduce the frequency of slips, trips, and falls by recoating and treating industrial flooring to meet and exceed OSHA standards. OSHA recommends walking surfaces have a static coefficient of friction of 0.50, and existing floors can be easily modified to guard against potential falls. Particularly slick conditions exist near wash bays and moisture prone areas, and during the winter months when snow, ice, and road salts are tracked throughout the plant. It's necessary to take precautions and protect employees with slip resistant floors.
Smooth, Seamless, & Durable Flooring – Round the clock foot traffic and machinery tread tests the durability of industrial flooring in manufacturing plants. Constant stress can be costly for plant managers needing to patch or repair eroding foundations to avoid violations. New technology has increased the lifespan of commercial floors and provides a longer-lasting solution in production spaces. Smooth, seamless systems that withstand 24/7 motion and heavy, mobile equipment can reduce the likelihood of buckling, cracking and chipped floors. The danger of fragile facility flooring not only raise red flags during inspections, but can also pose a threat to employee safety and working conditions.
Chemical and No VOC Solutions – Many manufacturers are faced with chemical runoff and volatile organic compounds (VOCs) that infiltrate production floors. These materials are often toxic – causing premature floor erosion and compromising the integrity of the system. Bacteria, mold and fungus can develop quickly and contaminate an environment. Newer plants and recoated floors can be engineered to withstand harsh chemicals from cleaning and sanitization, machinery lubricants, and production compounds used in product development. This extends the life of the floor and minimizes the risk of contamination.
Black Bear Coatings & Concrete value engineers manufacturing flooring for companies that exceed regulations, provide maximum protection from workplace hazards, and offers longer lasting products to our clients. We assess each individual space to provide better solutions and recommend solutions that enhance production environments.
We offer Epoxy, MMA, Urethane and more coating products that can be installed quickly with little downtime and disruption to your production environment. Get in touch with our experienced engineers to discuss updating your commercial floors to a better, more effective solution.
---
Black Bear Coatings & Concrete has extensive knowledge of polished concrete floors in commercial and industrial environments. With over 25 years of experience, our crews have the skills required to create a floor that meets each client's unique maintenance and aesthetic needs.
Black Bear is a leading concrete and coatings flooring company that serves New England – Maine, Massachusetts, New Hampshire, Northern Connecticut, Rhode Island, Vermont, as well as New York (north of New York City). Rest assured that we have the staff, equipment, and expertise needed to make your floor project a success. We spend time upfront to assess each client's needs, identify the best flooring solution, engage in the right preparation, and then install the floor using industry best practices. We'd love to help your company.
Contact us today for a free estimate.