Pharmaceutical manufacturing environments are subject to regulations issued by OSHA, as well as the FDA, which affect flooring choices. For example, the FDA's Current Good Manufacturing Practices (CGMP) dictate that the porous concrete floors in pharmaceutical manufacturing plants must be coated with epoxies that form a barrier against contaminants, pollutants, and contaminants. Regulations also include "zero-dusting" requirements to keep products pure. This means that pharmaceutical flooring must be seamless and cover the room from wall to wall to inhibit dust from settling in floor cracks or crevices.
As you consider the type of floor to install in your pharmaceutical plant, here are several key factors to keep in mind: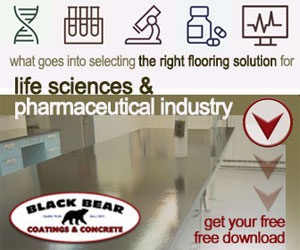 Maintenance and cleaning requirements. Many pharmaceutical manufacturing environments are subjected to steam cleaning and other cleaning materials as often as daily. Floor coatings must be able to withstand these types of treatments.
Durability in the face of abrasion and impacts. It's common for manufacturing facilities to see heavy traffic from machinery and industrial equipment. Be sure to select a floor that can withstand the unique conditions in your environment.
Slip resistance.To ensure employee safety, it's essential that floors in pharmaceutical manufacturing sites are slip resistant. The degree of slip resistance required will depend on factors like the nature of the operations and whether or not slick substances are spilled on the floor.
Product purity concerns. It's important to recognize that the fumes from some floor coatings can interact with pharmaceutical ingredients and change their taste or chemical structure. Firms must be certain to select the proper coating for their needs.
Thermal conditions. Some pharmaceutical manufacturing processes require extremes in temperature – both cold and hot. Firms must match these environmental conditions with the characteristics of the floor coating that will be used to make sure they are compatible.
Black Bear Coatings & Concrete is a leading concrete and coatings flooring company that serves New England – Maine, Massachusetts, New Hampshire, Northern Connecticut, Rhode Island, Vermont, as well as New York (north of New York City). We have worked with numerous pharmaceutical companies to install flooring that matches their needs. We ensure that cement floors are prepared properly before applying coatings and we work with clients to find the best coating that will suit their environment and minimize business downtime. Contact us to learn more about our services and how we can help you.
We spend time upfront to assess each client's needs, identify the
best flooring solution
, engage in the right preparation, and then install the floor using industry best practices. We'd love to help your company.
Contact us
today for a free estimate.