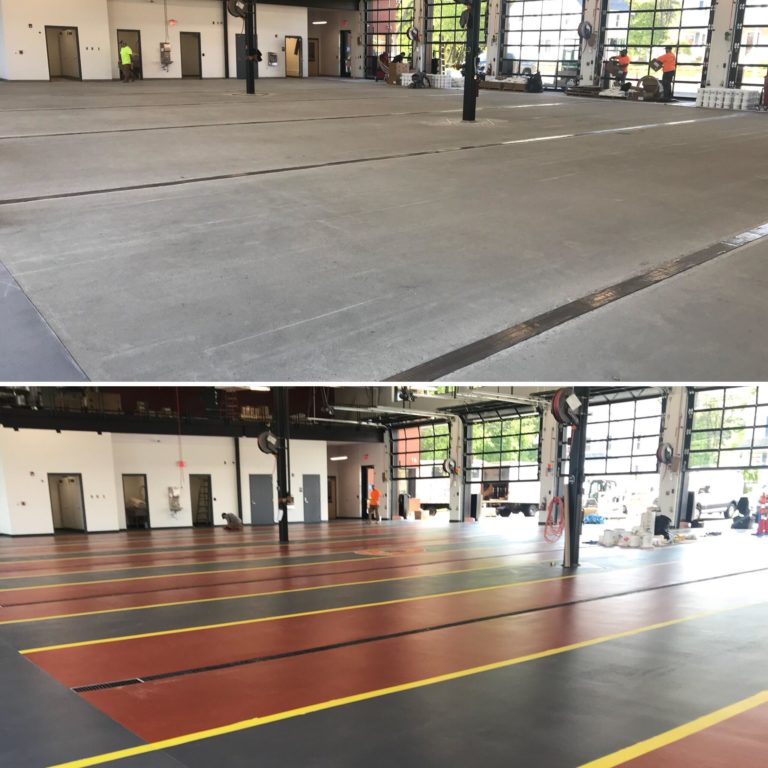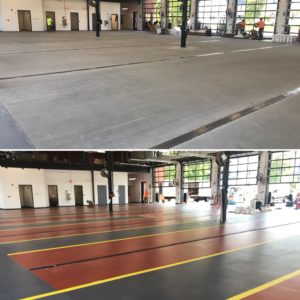 When businesses are looking for a long-term flooring solution that is easy to maintain, and hygienic, they often look to epoxy coatings or polished concrete.  However, some businesses believe that if they go with epoxy or polished concrete, they're going to be stuck with drab utilitarian floors. This couldn't be further from the truth.
There are numerous ways to customize the look of your floor, to create a surface which is attractive and functional.  If you need a floor which matches your corporate color scheme and branding, or that will make a statement on its own, epoxy or polished concrete can get the job done. In this blog post, we will discuss the top ways that you can create custom epoxy or concrete floors.
Top Ways to Create Custom Epoxy of Polished Concrete Floors
Customizing Epoxy Flooring
There are many dyes and additives which can be formulated into the epoxy at time of mixing. This can achieve different looks once it dries.  And, you can create custom colors with epoxy, and choose the finish.  Swirled looks are another option which can create stunning designs.
A truly eye-catching floor, metallic epoxy includes metal particles that result in a unique swirling sub-surface effects which catch the light.  This also gives a surprising sense of depth to the floor surface as well.
Related: Choose an Aesthetically Pleasing Floor for Your Customer-Oriented Business
The Versatility of Polished Concrete
The act of polishing concrete gives it a reflective shine that looks more like traditional stonework.  In fact, a polished concrete floor can actually mimic the look of other stones.
As with epoxy, dyes and other additives can be put in during the polishing process to change the look and color of the concrete.  By the time we're done with it, your concrete floor doesn't necessarily even have to look like concrete.  You can have a flooring surface which is affordable and easy to clean. Plus, it will be almost impossible to damage, and without sacrificing aesthetics.
Related: 5 Big Benefits of Installing Polished Concrete in Your Facilities
Black Bear Coatings & Concrete: The Epoxy & Concrete Customization Experts
Black Bear Coatings & Concrete are the industrial flooring experts. We have over 25 years of combined expertise engineering and installing flawless urethane and epoxy seamless floor solutions. Our team is the trusted professional in this niche industry. We value-engineer flooring solutions based on the environmental factors that could impact the longevity of your floor. This provides a longer-lasting product. Our pioneering installation techniques that result in industry standard ensures a timely, accurate delivery. We minimize disruption in operations and keep the focus on your business.
Contact us directly for more information about our epoxy, urethane, polished concrete, and MMA flooring solutions. Request a free, on-site assessment to learn how Black Bear can provide a compliant, visually appealing, and durable floor for your business.