Polyurethane – often referred to as Urethane – is one of the top choices in flooring in a wide variety of sectors. In commercial and industrial spaces, this type of product can withstand a good deal of environmental impact – resulting in a more cost-effective solution. Urethane flooring has been widely touted for being highly resilient, easy to clean and maintain, and environmentally-friendly.
1 – A Seamless Surface
In typical flooring solutions, such as stones or tiles or other building materials, the seams are a trap waiting to be filled with debris, foods, mold, mildew, bacteria, and more. Urethane flooring is laid down as a single flat uninterrupted surface. This makes it far easier to clean, and far less likely to encourage the growth of dangerous biological elements.
2 – High Scratch and Impact Resistance
Despite being a relatively thin coating, Urethane is resilient and slightly bouncy. This makes it highly resistant to damage from falling objects, as well being somewhat less likely to damage those objects upon impact. Likewise, it's highly scratch-resistant and can hold up well even in high-use situations involving heavy machinery like forklifts. Depending on the exact formulation used, Urethane can be up to three times as durable as epoxy.
3 – UV Stability
Unlike many other flooring types, Urethane flooring isn't affected by the UV of the sun's rays or certain lamp types. It won't discolor or begin to break down. This makes it a good option for environments that will see a lot of sunlight, or labs were intense UV lights are deployed.
4 – High Chemical Resistance
There are very few chemicals in use, including highly reactive chemicals like industrial solvents and acids, which can do significant damage to a Urethane floor. It's virtually always the top choice in flooring materials for spaces involving heavy-duty chemicals, especially given that it's non-absorbent and extremely easy to clean.
5 – Fast Curing
Urethane floors are relatively fast to dry and become ready for general usage, often just in a day or two depending on how many coatings are being laid. Other materials can take up to a week to become usable. This makes Urethane a great option when you're looking to minimize downtime while installing or maintaining your floor.
Black Bear has extensive experience working with and installing polyurethane floors safely and efficiently. Take a look at how Black Bear value-engineered Urethane flooring for clients below.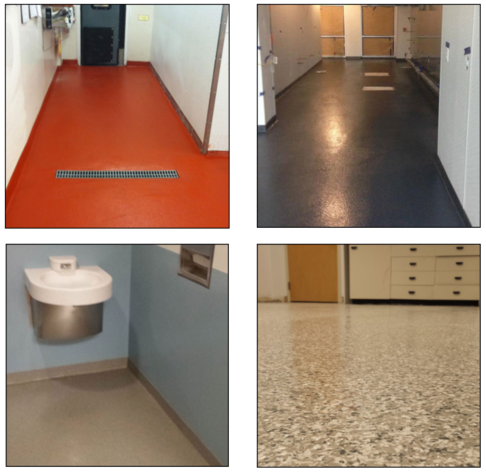 ---
Black Bear will work directly with you or your general contractor to develop a longer-lasting product that saves money and withstands the environmental elements in the Northeast. Whether it's new construction to enhance the look and feel of your property, or a restoration project that ensures the safety of your patrons, trust the professionals at Black Bear Coatings & Concrete to make sure you get the exact concrete foundation and restoration services that you want and need.
With over 25 years of experience, our crews have the skills required to create a production floor that meets each client's unique maintenance and aesthetic needs. Call Black Bear to learn how we provide longer-lasting, more effective solutions for manufacturing and production buildings.
Black Bear is a leading concrete and coatings flooring company that serves New England – Maine, Massachusetts, New Hampshire, Northern Connecticut, Rhode Island, Vermont, as well as New York (north of New York City). Rest assured that we have the staff, equipment, and expertise needed to make your floor project a success. We spend time upfront to assess each client's needs, identify the best flooring solution, engage in the right preparation, and then install the floor using industry best practices. We'd love to help your company.
Contact us today for a free estimate.