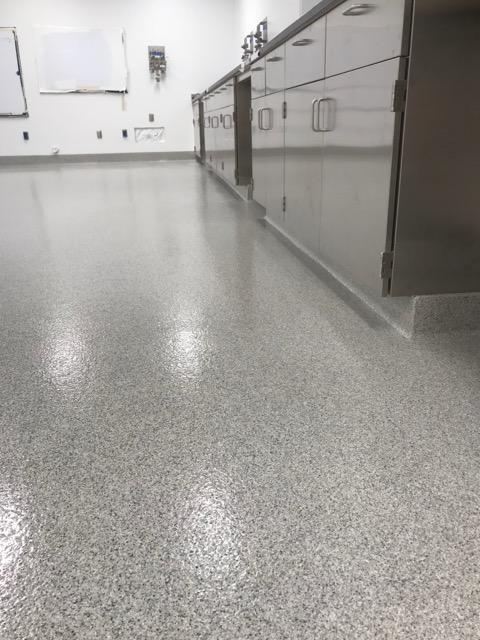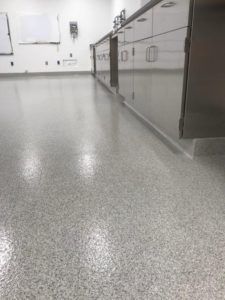 If you're looking for industrial or commercial flooring solutions, there are several options that tend to stand out.  These include polished concrete, epoxy coatings, and urethane coatings, to name a few.  All are viable options depending on your needs. However, urethane coatings are an "all around" solution that offers numerous advantages for a variety of spaces. While the positives of urethane coatings outweigh the negatives, it is important to look at the urethane coating pros and cons during the decision process.
As with all flooring materials, there are some potential drawbacks too. Make sure you understand the demands of your environment where the flooring will be located before making flooring decisions. So, to help you in your commercial flooring buying process, let's examine some of the most noteworthy urethane coating pros and cons.
Urethane Coating Pros and Cons
Urethane Coating Pros For Businesses
Flooring made with urethane is created through a coating process – with the urethane being laid on top of an existing floor, often concrete.  When properly applied, the result is an entirely seamless coating that offers a number of safety and maintenance attributes:
Urethane is easy to clean.  Non-porous and waterproof, the upkeep is minimal and common cleansers will often suffice.
Urethane is easily sterilized.  The seamless nature of the coating makes it very difficult for microbial life, fungus, and other contaminants to get a foothold.
Urethane is quite hard, and a single coating will usually last for many years under average usage.  Plus, should it need repair, you generally only have to lay down a new layer of urethane coating.
In many cases, urethane is relatively fast to install compared to similar alternatives, although it does require time to pour, spread, and cure.
Urethane top coats are solid all-around solutions for a multitude of industries – ranging from commercial floor space to industrial facilities, to bio-medical production.
FREE Whitepaper: How to Choose the Right Flooring
Urethane Coating Cons vs Polished Concrete
The big benefit to polished concrete compared to urethane is aesthetic.  Polished concrete can be multi-colored, or have designs built directly into the flooring – like vinyl floors and decals, but will last much longer.  It is much easier to make a beautiful polished concrete floor, if you're looking for a solution to wow visitors and enhance an overall space.
In addition, polished concrete can be given a clear waterproof coating, which gives it many of the same benefits as urethane. However, this type of floor is not necessarily recommended for heavy industrial work. For more information, check out our blog post on the pros and cons of polished concrete.
Urethane Coating Cons vs Epoxy
The primary benefit of epoxy is that it is hard.  Without getting into exotic materials, it's the hardest flooring substance commonly in use. This could be critical if your industrial floor must withstand traffic from heavy machinery like forklifts or rollers.  That sort of usage can quickly wear down urethane.
However, epoxy is difficult and time-consuming to install properly. Even slight defects in installation can cause the flooring to fail.  Also, it's not truly impervious.  It can be chipped or cracked, particularly from heavy objects falling on it.  That said, like urethane, a new layer of coating is usually all that's needed to repair it. If you want to learn about the advantages and disadvantages of epoxy, we've written another blog post about the pros and cons of metallic epoxy flooring.
Which Flooring Type Is Right For Your Facility?  Ask The Pros!
Black Bear Coatings & Concrete are the industrial flooring experts of New England and Northern New York. With over 25 years of combined expertise, our team is the trusted professional in this niche industry.  We provide high-quality solutions in urethane coatings. We value-engineer commercial and industrial flooring solutions based on the environmental factors that could impact the longevity of your floor. This provides a longer-lasting product. Our flawless installation ensures a timely, accurate delivery that minimizes disruption in operations and keeps the focus on your business.
Contact us directly for more information about our epoxy, urethane, polished concrete, and MMA flooring solutions.  We'll be happy to discuss your options and go over all of the urethane coating pros and cons with you. Request a free, on-site assessment to learn how Black Bear can provide a compliant, visually appealing, and durable floor for your business.