Yes, there really is a difference between epoxy and self-leveling epoxy.
While both are ideal for performance in commercial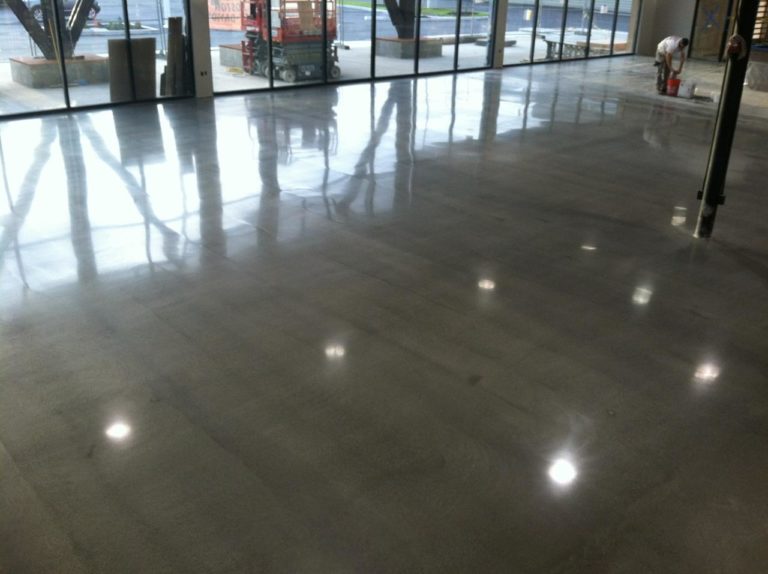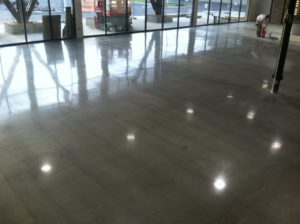 and industrial spaces, the formulation and application process is slightly different. Self-leveling epoxy is a coating applied to a slab of concrete and, as the name suggests, it's easy to apply because it self-levels and spreads out across the flooring surface.  It quickly creates a single seamless surface across the floor. While general epoxy coatings can also create a seamless floor, self-leveling epoxy leaves nothing to chance. Rather than use rollers to apply the epoxy compound onto a floor that could cause and inconsistencies, self-leveling epoxy is specially formulated for an application to balance out and give you a truly smooth and even surface.
Five Major Benefits To Self-Leveling Epoxy Floors
1 – Strength
Epoxy is extremely strong, among the hardest and strongest options available in flooring.  It can stand up to huge amounts of foot traffic, or even having large machinery such as forklifts and steamrollers driven over it.  This strength gives it superior durability, and ensures a coating will last for many years..
2 – Environmental resistance
Epoxy also stands up well against most types of chemicals, even relatively caustic chemicals commonly found in labs in pharmaceutical manufacturing facilities and on healthcare campuses.  Likewise, it resists damage or fading from UV light exposure.  This further increases its long-term value, and minimizes maintenance needs. Plus, if you're working with particularly dangerous or exotic chemicals, special formulations of epoxy can be made with extra resistance to them.
3 – Easy cleaning
Self-leveling epoxy requires little more than a soap and water cleansing. Buffing, polishing, or other intense maintenance shouldn't be required unless sanctioned by compliance regulations.  Because the surface is a single seamless sheet, it also resists any sort of microbial life such as mold and mildew by giving them nowhere to live.  Need a clean room setup?  Epoxy with active anti-microbial agents is also an option.
4 – Slip resistance
Self-leveling epoxy might look shiny, but it actually gives plenty of grip underfoot.  It's even safe to walk on when wet.  It's a great choice for cafeterias, locker rooms, and other situations where water could build up and liquid spills are likely.
5 – Attractive looks
Epoxy doesn't have to be bland.  It comes in a wide variety of colors and finishes, and you can even get blends with metallic additives that create amazing swirling patterns. Self-leveling epoxy is not only a safe and compliant floor but can enhance the look and feel of a brand's environment.
BLACK BEAR , THE EPOXY EXPERTS
With over 30 years of experience designing functional and attractive epoxy flooring for commercial and industrial clients, Black Bear is the trusted partner for epoxy and self-leveling epoxy formulas, urethane, MMA, and polished concrete coatings.  We value engineer each product based on the environment and the client's individual needs. Contact us for a free on-site consultation and learn how your business can benefit from an attractive and durable floor solution.