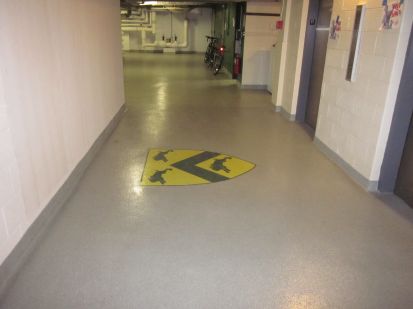 When selecting school flooring material, it's essential to think about the health and safety issues that could affect students and employees. Unfortunately, many traditional school flooring materials have been found to create health hazards. For example, the Asthma Regional Council of New England has found that carpet and vinyl flooring create health problems. To make the right school flooring material decision, let's take a look at some things you should consider.
Top 3 Guidelines for Evaluating School Flooring Material Options:
1. Will the school flooring material generate dust?
Although carpets may seem like a good option for deadening sound and creating softer surfaces for young students to sit on, they can actually be a major source of dust. For many individuals, dust is an allergen. When released into the air, it can cause respiratory problems. Want a dust-free alternative? Try Polished concrete floors or epoxy floors.
2. Will the school flooring material be a source of mold and/or mildew?
If flooring, such as vinyl tiles or linoleum, gets water underneath, it can be a breeding ground for mold and mildew. Like dust, these can be allergens and irritants for students and school employees and can cause respiratory illnesses. Vinyl flooring is also the most toxic flooring material to manufacture and dispose of. Mineral floors, which include concrete, are a better option. They can become wet on the underside without developing mold or mildew.
3. Will installation or ongoing maintenance of the floor contribute to toxic chemicals in the air?
Volatile organic compounds or VOCs are dangerous for humans to inhale. Many carpet adhesives emit VOCs. In addition, the sealers, waxes, and strippers used for linoleum are also often sources of VOCs. Concrete floors are preferable in many ways. Polished concrete is easily maintained with just a wet mop. Concrete floors also do not require waxing, buffing, or stripping. As a result, that means fewer chemicals in the air and a less expensive maintenance regime.
A Safe, Alternative School Flooring Material: Concrete
So what's the best flooring for schools? Unlike carpet or vinyl flooring, The Asthma Regional Council of New England has identified concrete floors as an ideal school flooring material. It is the especially the best option for school halls, classrooms, libraries, cafeterias, restrooms, and kitchens. Concrete solutions are completely dust-free, and will not develop mold or mildew. Choosing concrete as your school flooring material will give your institution one less thing to worry about.
Black Bear Coatings & Concrete Are School Flooring Material Experts
From new building installations to repair and replacement of failing floors in any type of school, Black Bear has partnered with educational institutions throughout New England. In addition to stronger, safer, compliant floors, we've completed detailed customization from stenciled inlays for athletic facilities, to branded colors that enhance the aesthetics of each area. Black Bear has value-engineered solutions for Harvard, Babson, Massasoit Community College, Wellesley, and Springfield College.
View Gallery of Black Bear's Past Work with Educational Institutions
At Black Bear, we use a proven methodology referred to as reverse-engineering. Our team conducts a thorough on-site evaluation to know exactly how the space is used, what influences may compromise the integrity of the floor, and how it will be maintained. By understanding these elements, we are able to provide an innovative solution that meets and exceeds innate challenges and environmental impact. This allows us to formulate and install the best flooring product for each space for increased durability and a more reliable, safer and healthier floor. Whether you're looking for classroom flooring materials, school hallway flooring, or a cafeteria flooring material, we've got you covered.
Black Bear teams will work within your scheduled downtime periods, and complete construction during off hours to avoid disruption on campus. Give us a call at 978-405-0017, or contact us for a free on-site consultation to learn how we can design and install the best school flooring materials for your school. Safety, accuracy and dependability, that's Black Bear's promise and evident in every product we deliver.
To learn more about our passion for concrete – and more importantly, for making your project a complete success – please contact us today for a free estimate.