One of the most important decisions municipalities face when renovating or developing new construction, is the type of flooring to install for buildings and grounds. A cost effective solution that fits the government's budget and will last longer under substantial stressors is typically sought which is why more towns and municipalities look to concrete and resinous coatings to get the job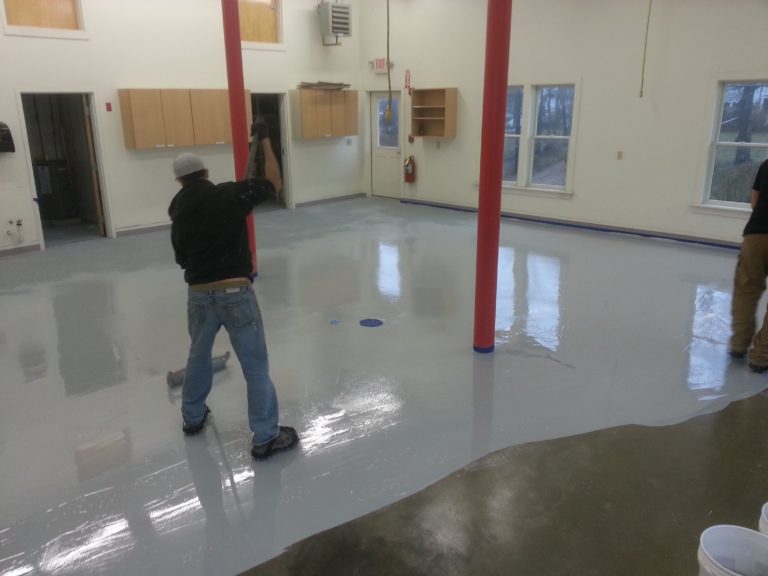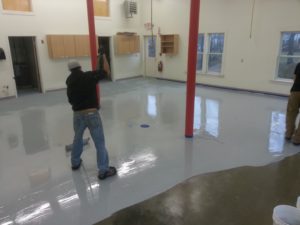 done.
A resinous floor coating, made of substances such as epoxy, MMA, or polyurethane, meets all those criteria easily.  Resinous coatings are extremely strong and durable, while creating a single continuous flooring surface that is easy to clean.  However, with numerous options still available, it's hard to know which one is the right solution.
How Different Types of Floor Coatings Can Benefit Municipal Buildings
1 – Epoxy
The primary benefit of an epoxy coating is its extreme strength, even compared to other coatings.  In terms of cost vs strength, it's easily the best choice for areas which will see heavy traffic or will need to stand up to vehicle usage.  Epoxy is a great choice for garages and storage rooms, for example.
2 – Metallic epoxy
Metallic epoxy is simply epoxy with tiny metal flakes embedded, but the effect it creates is stunning – a floor filled with shimmering dimensional swirls.  This makes it an excellent option for areas which need to wow visitors, such as foyers and critical buildings such as city hall.
3 – Polyurethane
Urethane-based coatings are almost as strong as epoxy, but they're slightly resilient.  This gives them greater resistance to falling damage, especially from heavy objects.  Urethane coatings are a good match for areas such as a kitchen / dining hall or cafeteria, or for places with heavy equipment and mobile machinery where there's a higher possibility of heavy drops and weighty pressure.
4 – MMA (Methyl Methacrylate)
MMA is similar to epoxy, but with the key difference being that it's very fast-curing.  It's a good choice if you need to quickly renovate the floor in a room with minimal disruption.  MMA is also easier to color than some other resins, so it can actually go in a wide variety of rooms where the color scheme matters.  Plus, it has the best UV resistance, so it's the right pick in rooms which will see a lot of sunlight.
BLACK BEAR IS THE LEADING CONTRACTOR FOR POLISHED CONCRETE SOLUTIONS
From performance to design, Black Bear Coatings & Concrete ensures that each municipality's needs are recognized and reflected in the product we provide for optimal results. Learn why more towns and government agencies trust Black Bear to engineer longer-lasting concrete, epoxy, urethane, and MMA solutions. Request a free, on-site assessment to learn how Black Bear can provide compliant, visually appealing, and durable commercial and industrial concrete floors for your properties.