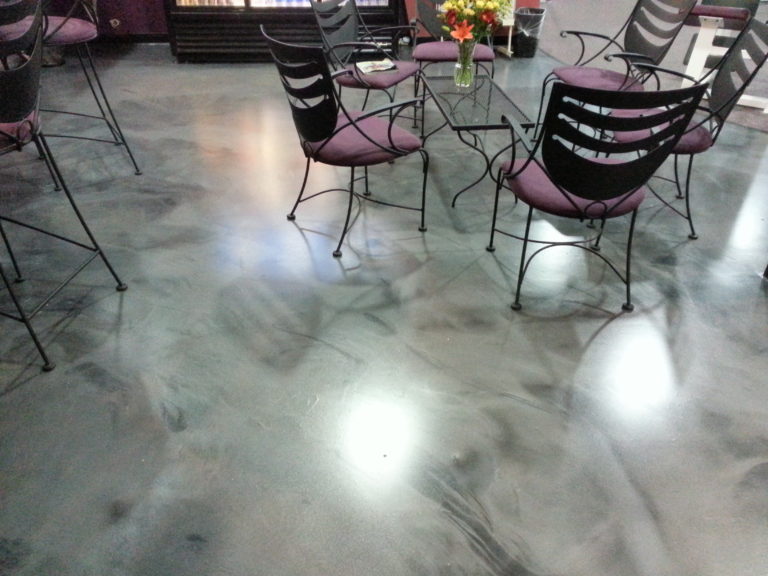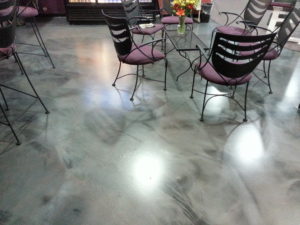 Metallic epoxy floor coatings for commercial and industrial spaces are the perfect marriage of beauty and durability. This type of coating is an ideal choice for many different areas of a single business – allowing for reliability and customization. Continue reading to learn where to use metallic epoxy flooring at your business.
METALLIC EPOXY FLOOR ADVANTAGES
When compared to other coatings used over a concrete substrate, epoxy floor coatings come out on top. The benefits of this type of commercial floor system include:
An unparalleled, shiny, high gloss surface
Protection for concrete and stain resistance making it easier to clean and less likely to erode from blemishes
Resistance to continuous, heavy traffic, while maintaining the integrity of its protection and aesthetics of your concrete floor underneath
A variety of colors and styles allow you to truly customize the appearance to enhance the space and support your brand.
They are environmentally friendly and their reflective nature is energy efficient
Related: How to Install Metallic Epoxy Floors
WHERE TO USE METALLIC EPOXY COATINGS
So, where to use metallic epoxy coatings? Metallic epoxy is an ideal choice for a number of spaces at businesses, including:
| | |
| --- | --- |
| ·         Corporate office spaces and lobbies | ·         Retail areas / Showrooms |
| ·         Schools & Universities | ·         Garages |
Your substrate foundation must be smooth and even for a flawless installation. Diamond grinding and concrete prep may be necessary to eliminate any uneven or rough areas before pouring the epoxy.
With so many benefits and so much versatility, you will be happy you chose a metallic epoxy floor coating.
Experts in Commercial Metallic Epoxy Installations
Black Bear Coatings & Concrete provides a wide variety of metallic epoxy flooring for industrial and commercial properties. For over 25 years, our highly-trained field teams have installed formulated epoxy coatings based on the performance requirements of a given location. We specialize in value engineering metallic epoxy designs that complement your environment and breathe new life into a space, while providing the high-quality, durable flooring that is synonymous with the Black Bear name.
Metallic epoxy can be used to coat over existing concrete floors, or designed exclusively for a new flooring system. Basic installation includes a three-step process using a primer, the formulated metallic epoxy, and a clear top coat. Additional topcoats can be added for increased scuff resistance and greater protection against constant motion. Metallic epoxy floors can be installed with minimal downtime, and the three-dimensional look adds color and depth to conventional floors – making this a popular solution for retail spaces, lobbies, and showrooms, and a preferred solution among interior designers.
To get some ideas for where to use metallic epoxy coatings at your business, take a look at some of our metallic epoxy floor pictures. Black Bear has installed coatings for clients throughout New England and the East Coast. Contact us for more information how to do metallic epoxy flooring at your business. Or, inquire about our epoxy, urethane, polished and metallic solutions, and MMA flooring solutions. Request a free, on-site assessment to learn how Black Bear can provide a compliant, visually appealing, and durable floor for your business.