Cold storage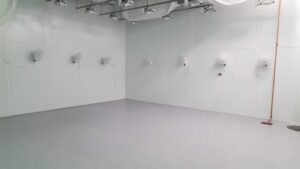 systems create unique challenges when trying to choose the right commercial or industrial floor.  The flooring solution will need to be able to handle the freezing temperatures without weakening or cracking, and will have to maintain a hygienic environment that doesn't endanger the goods being stored. For instance, pharmaceutical manufacturing companies and the storage for the new COVID-19 vaccine in mass production, is requiring cold storage for warehousing prior to transport and distribution. This is a challenging combination, however various types of resinous coatings can give you a durable and compliant cold storage room floor system.
Different factors in the cold room will influence which type of resinous coating is best.  Some of the more common considerations when choosing a cold storage flooring solution include:
1 – Installation temperatures
If you're building a new cold room from scratch, this isn't an issue. However, if you're retrofitting an existing cold storage system without raising room temperature you will have to account for the core temps of the space.  Most epoxy and polyurethane resins require temperatures well above freezing to properly set.  In these cases, you may need to use a methyl methacrylate (MMA) solution instead, since MMA can set at significantly lower temperatures.
2 – Organic goods
Will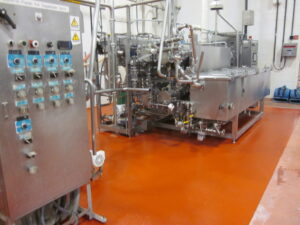 you be storing organic goods – such as foods or beverage – which may leak or drip onto the floor?  Many such products have acids or oxidizing agents that can eat through some flooring types, such as basic epoxy.  You'll either want a custom epoxy blend with extra strength, or else polyurethane, which is more naturally resistant to caustic agents.
3 – The substrate 
Typically, resinous coatings are laid down on top of concrete slabs, which are relatively standard in these settings.  However, there may be situations – such as retrofits – where the substrate is another material such as metal.  In these cases, your flooring contractor would need to be made aware ahead of time, so they can prepare an appropriate bonding layer that will work with the substrate and the temperatures involved.
4 – Cleaning processes
All resinous coatings naturally create a smooth, unbroken surface which is exceptionally easy to clean.  Usually it only requires a standard mop or sprayer system.  However, if you will need to perform hot-water washdowns on previously cold areas, your flooring will need to be polyurethane.  Other materials won't be able to handle the temperature shock without becoming compromised.
Black Bear Commercial & Industrial Flooring Solutions for Cold Storage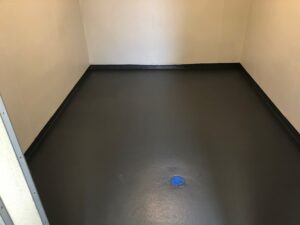 With over 30 years of combined expertise, the Black Bear Coatings & Concrete team value-engineers commercial and industrial flooring solutions based on the environmental factors that could impact the longevity of your floor. We've designed and installed cold storage solutions for food and beverage industries, manufacturing, and pharmaceutical among others. In addition, our flawless installation ensures a timely, accurate delivery that minimizes disruption in operations and keeps the focus on your business.
Contact us directly for more information about our epoxy, urethane, polished concrete, and MMA flooring solutions. We'll be happy to discuss your options and go over all of the chemical resistant flooring pros and cons with you. Request a free, on-site assessment to learn how Black Bear can provide a compliant, visually appealing, and durable floor for your business