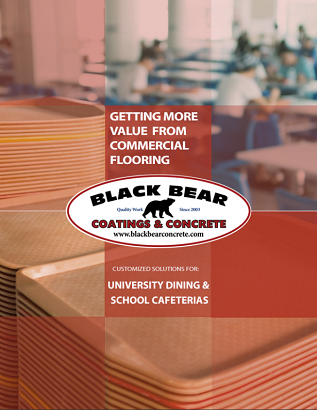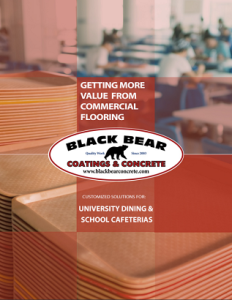 As the school year winds down, maintenance crews prepare a rigorous schedule of repairs, restorations, and new additions during the school downtime period. It's the optimal time to take on flooring projects – with minimal foot traffic on campus.
At Black Bear, we partner with public and independent primary and secondary schools, as well as universities to provide new flooring solutions. Cafeterias and dining halls are a common space that requires more frequent repair and presents a specific set of challenges. We find that epoxy and urethane products work well in this environment.
Kitchens, Cafeterias, Dining Halls & Break Rooms
Commercial kitchens and dining areas are subject to various stressors that need to be addressed prior to the installation of any floor system. This is the only way to engineer the right solution that will last longer and maintain the safety of staff and students.
Compliance and regulatory agencies assess the integrity of a school cafeteria's flooring. Any chips, cracks, stains, or mold are red flags that indicate safety hazards and compromise the health and well-being of those on the property. Epoxy and urethane topcoats are ideal due to their durability and customization that can withstand the stressors of the food and beverage industry.
Wet Spaces: Damp spaces and faucet runoff can produce dangerous mold, and erode and buckle flooring. Seamless water resistant solutions are preferred to avoid frequent damage.
Fridge/Freezer/Heat Sources: Shock resistant flooring is required to counter-act the extreme temperature changes can destroy floors.
Foot Traffic & Tire Tread: The weight of food pallets, constant foot traffic, and moveable storage will wear a floor down over time. A durable solution is needed to withstand daily impact.
Sanitization: Working with raw materials and food byproducts require regular sanitization. Harsh chemicals can erode flooring, however epoxy or urethane solutions with chemical resistance will protect the space from commercial cleansers.
Providing a Safer Environment
Black Bear Coating & Concrete is the Northeast's leading industrial flooring partner. We provide safer, more cost-effective solutions to schools. Our epoxy and urethane floors withstand dangerous elements that can be costly for a school. We value-engineer solutions for school cafeterias and dining halls by dissecting all requirements and compliance needs up front. We address safety concerns including proper drainage and slip resistance to create a product that will endure under all outlined conditions.
Our skilled crews can restore or install new cafeteria flooring quickly to provide a more advanced system before the start of the new school term. Contact us to learn more about our epoxy and urethane coatings for commercial kitchens and dining spaces that can be customized and stylized to enhance your school's environment.
---
Black Bear Coatings & Concrete engineers solutions for the food and beverage industry including epoxy, urethane, MMA and polished concrete floors. We offer longer-lasting, and aesthetically pleasing floors that are durable and easy to maintain. To learn more about Black Bear solutions for breweries and micro-brew restaurants, contact the experts at Black Bear Coatings & Concrete.
The industrial flooring experts will value engineer the right solution for your facility. We would be happy to discuss what solution would best fit your needs. We have years of experience working with industry leaders in a variety of sectors. Black Bear is a leading concrete and coatings industrial flooring company that serves New England – Maine, Massachusetts, New Hampshire, Northern Connecticut, Rhode Island, Vermont, as well as New York (north of New York City). Rest assured that we have the staff, equipment, and expertise needed to make your floor project a success.
Contact us today for a free estimate.