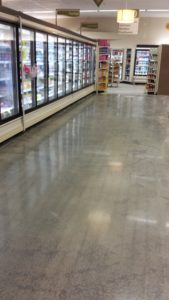 There's a lot more to creating a perfect concrete flooring solution than simply hiring a quality concrete contractor.  Concrete is a great basis for virtually any kind of commercial or industrial flooring, but that is only the starting point.  The right contractor can guide you through the choices to be made and help ensure you receive a floor which will meet all the demands of your business, while also looking nice.
Here are some of the key aspects to consider when laying down a concrete flooring solution.
Top Considerations When Installing a Concrete Flooring Solution:
The Concrete Mix:
Concrete flooring solutions are not a "one size fits all" material.  There are a huge range of options in mixes available, depending on your local environment as well as how the floor will be used.  Buildings in areas which see a wide fluctuation in temperatures, for example, will need additives in the concrete which prevent cracking.  Or, if the concrete will be supporting heavy machinery – such as rollers or cranes – it will need extra added strength to hold up.
Fortunately, a concrete contractor can formulate your batch of concrete to precisely match your needs.
Coloring:
Concrete doesn't have to be the dull gray most people think of.  In fact, concrete can have dyes added which allow it to be almost any color.  Or, the concrete can be acid-stained after pouring and setting, this creates eye-catching swirls of color, a bit like the look of oil on top of water.
Stamping:
Do you want to add more personality to your concrete?  Concrete flooring solutions can have patterns stamped into it.  Highly skilled concrete contractors can even create concrete floors that mimic other materials, such as concrete that looks like brickwork.
Coating:
In many commercial and industrial settings, adding a resinous coating to the top of the concrete is a vital part of the finishing process.  The coating can be made of materials such as epoxy, MMA, or polyurethane.  These add significant strength and resilience to the flooring!  They are also a good way to proof your floor against chemical spills if your business involves caustic materials which could eat through regular concrete.
Black Bear Coatings & Concrete is your #1 Concrete Flooring Solution Contractor in the Northeast
All told, there's a concrete flooring solution to fit any business need.  It's economical, long-lasting, and can even look amazing. Black Bear Coatings & Concrete has partnered with commercial and industrial clients to provide longer lasting floors.
We'll be happy to discuss your options and go over all of the concrete solutions and considerations with you. Contact us for a free on-site consultation and to learn how we help you value-engineer better flooring solutions for your business or commercial space.